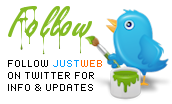 ---
55 visitors
are currently online at
just
web
®
---

---
SEO

(Search Engine Optimisation)
Statistics show us that
more than 80%
of traffic from search engines comes from organic results. Basically, unless you are on the first page of
Google
™, regardless if you have a PPC strategy, your website may not be performing to it's full potential. For experienced, proven
SEO Australia
results, contact us
today
about
website audits
, SEO, and how we can improve your organic search engine optimisation with proven results.
---
Copywriting

A
good copywriter
knows which words trigger the feelings that compel people to make decisions. They write with flair, making it easy for people to be drawn into what they are saying about your business, services or products. Read an an example of good copywriting for a fictitious Sydney
Mercedes Dealer
, or just "ok" website copy for a
Used Mercedes
dealer.
---
Trademarks

The most effective way to safeguard you against people "trading off" your business name, product or service, is to register a trademark. For more information, including about the
just
web
®
trade mark, please read our
trademark registration
article.
---
W3C Validated
:
XHTML
|
CSS
The following articles were gratefully supplied by
Dilanchian Lawyers and Consultants
- Intellectual Property and Innovation Professionals.
---
Home:
Article Index
'12
:
January-May
'11
:
January-March
,
April-June,
July-August
,
September-December
'10
:
January
,
February
,
March-June
,
July-September
,
October-December
'09
:
March
,
April
,
July
,
August
,
September
,
October
'08
:
Jan
,
Apr
,
May
,
Dec
'07
:
Dec
,
Nov
,
Oct
,
Aug
,
Jul
,
Jun
,
May
,
Apr
---

Content monetization with Google AdSense advertising
In using AdSense to monetize content, how good are the financial margins for the The New York Times verses About.com?
The answer is provided by Martin Nisenholtz, Senior Vice President for Digital Operations at The New York Times Company. The Company owns both publications.
Generate great trade marks to register
One key point is missing in the many thousands of articles written on brand development and trade mark registration.
The point is missing usually because those who write the articles do not provide a full or integrated brand development service.
Where that service is provided, the point is often still missing. In their articles authors on branding tend to focus on technical prowess in a niche area for brand development, eg design, marketing or law.
2009 statistics on media convergence
We like a lot this video with remarkable statistics on convergence. The stats cover use of mobile phones, social media, web surfing, and internet video.The stats document changes in audience metrics, advertising, consumer habits and the economics of entertainment industries.
These lead to noting old issues in new contexts. Two of these are use of social media by employees and use of social media to fund political campaigns. It promotes The Economist's third annual convergence forum in New York on 20-21 October 2009.
From Goldfinger to Green Thumb - The James Bond Story
The intellectual property story behind the James Bond films provides practical guidance on how nurturing assets makes them grow, bear fruit and become a money magnet.
Bond is the second highest grossing series ever - over US$5 billion. The figure reaches nearly US$11 billion when adjusted for inflation.
Danjaq LLC is the holding company for the copyright and trade marks in the James Bond series. EON Productions is the film production company for the series. There have been 22 films, the most recent Quantum of Solace.
It has been noted that the value today of the James Bond series of films is about equal to the value 20 years ago of the entire MGM library of films created in the 20th century. The Bond series has long been a jewel in the MGM crown.
10 steps for innovation management
Intellectual property law can be glued onto a creation or invention to give it legal and hopefully market and financial strength. Intellectual property lawyers, patent attorneys, trade mark attorneys, and marketing consultants all have relevant expertise.
If all you do with them is apply their IP glue to what you already have, then you'll get what you ask for, a quick fix. If you avoid the rush and seek more, consider this.
The intelligent design of your creations and inventions involves integrating legal, management, technical and creative know-how from a range of advisers and consultants. Before turning to a quick stick bandaid solution for your baby project, consider the bigger picture for the work of the experts.
Three legal data visualisations
Three examples of visualisation of legal information crossed my screen this month. Each is worth noting for deeper examination. Data visualisation is a regular topic for Lightbulb, see the further reading list below.
During contract drafting workshops I've run for lawyers I've mentioning the many benefits of visualisation of contractual business processes.
I've also called for more legislation featuring graphics. This usually prompts a blank stare, puzzlement or ridicule along the lines of "it'll never happen" or "it's not practical".
Management and change management distinguished
We live and work at a time of frenetic change. People are called on to keep it together and keep up. Inevitably that's an expression of hope that they will succeed. Usually I find people do, we are very adaptable creatures.
Organisations are the same only if their DNA evolves. Wealth creation is increasingly a function of keeping up and adapting. Call it innovation if you like.
At times it seems that everything is all about change. Certainly that is too often the case with the bogus use of the word "reform" appearing after any reference to a new law.
Change is fashionable. Fashion is change. People are thrilled by the "new new" thing. It may be mere confection, but it's new!
Smartphone statistics and links
The bank, Credit Suisse, projects global smartphone sales in calendar 2009 at 176 million units and 223 million in 2010. Where are we heading?
As more smartphones are sold two things are evolving and exploiting the functionality of smartphones more fully. On the supplier side there is smartphone software and apps. On the user side, changing user habits.
Running with them will be new applications. They will serve health, emergency services, defence, education, banking, retailing, and other sectors benefiting from information services. These applications will be commercialised if smartphones meet user needs.
Those user needs may be because the information sent, or the information received in response, is time critical, location aware, personalised or authenticated.
Future of collaboration
The cover story of this week's BusinessWeek is on corporate R&D in the United States. Four videos stand out as overviewed in this article. An audio interview with Steve Hamm, the lead journalist, pulls together thinking behind the stories. BusinessWeek confusingly splits the text, video and audio content.