Business Law Articles - August 2009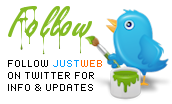 ---
73 visitors
are currently online at
just
web
®
---

---
SEO

(Search Engine Optimisation)
Statistics show us that
more than 80%
of traffic from search engines comes from organic results. Basically, unless you are on the first page of
Google
™, regardless if you have a PPC strategy, your website may not be performing to it's full potential. For experienced, proven
SEO Australia
results, contact us
today
about
website audits
, SEO, and how we can improve your organic search engine optimisation with proven results.
---
Copywriting

A
good copywriter
knows which words trigger the feelings that compel people to make decisions. They write with flair, making it easy for people to be drawn into what they are saying about your business, services or products. Read an an example of good copywriting for a fictitious Sydney
Mercedes Dealer
, or just "ok" website copy for a
Used Mercedes
dealer.
---
Trademarks

The most effective way to safeguard you against people "trading off" your business name, product or service, is to register a trademark. For more information, including about the
just
web
®
trade mark, please read our
trademark registration
article.
---
W3C Validated
:
XHTML
|
CSS
The following articles were gratefully supplied by
Dilanchian Lawyers and Consultants
- Intellectual Property and Innovation Professionals.
---
Home:
Article Index
'12
:
January-May
'11
:
January-March
,
April-June,
July-August
,
September-December
'10
:
January
,
February
,
March-June
,
July-September
,
October-December
'09
:
March
,
April
,
July
,
August
,
September
,
October
'08
:
Jan
,
Apr
,
May
,
Dec
'07
:
Dec
,
Nov
,
Oct
,
Aug
,
Jul
,
Jun
,
May
,
Apr
---

Public rights to copyright material
Recommendations have recently been made for improved engagement with Wikipedia by galleries, libraries, archives and museums (GLAM) in Australia and Zealand. They arise from the "GLAM-WIKI: Finding the common ground conference held at the Australian War Memorial, Canberra, 6-7 August 2009.
54 Twitter lawyer grooves from noricd
Noric found his Twitter groove in July 2009. 54 tweets came in rapid succession @noricd. The most recent appear first. In the same month, TechCrunch published confidential document extracts on Twitter's business planning strategy and issues.
Commercialisation success stories and guides
Lightbulb is an Australian IP law blog focused on commercialisation of intellectual property. Over the last three years it has motivated us to research and write many IP commercialisation success stories. Our portfolio of stories covers an inspiring range of successful products, services, business systems and technologies. It ends with a list of guides designed to help you build your success story.
Law firm value for money
Yesterday LexisNexis broadcast its latest newsletter. It contained a link to its online "White Paper". That was literally its title, and it's a clue to its quality of thought. That's a little unfair. The topic is a difficult one, and kudos to LexisNexis for revisting it.
The newsletter said the White Paper addresses this question: "Is the GFC a catalyst for change in the legal sector?" GFC stands for global financial crisis. As much as that question is somewhat short-sighted, it is probably true. That is to say, the GFC is a catalyst for change in the operations of law firms in places like Sydney, New York and London.
U.S. media - sectors shrinking or growing
Which sectors are likely to be shrinking or growing in the U.S. media industry between 2009-2013? This article features a snapshot table based on recent research. On 3 August 2009, U.S. private equity firm, Veronis Suhler Stevenson (VSS), released Communications Industry Forecast covering the years 2009-2013 (www.vss.com/forecast09). It's a fully digital publication. It has a 22 year history. It's available for purchase with an impressive table of contents and a 3 minute preview .
Internet business models debunk The Long Tail theory
An internet business model riddle exists for content creators, owners and publishers. It's a riddle about how to make money when so much information is free on the internet. Prominent in all this is Google which in 10 years has shaped a perfect market for itself. Google brings net users to publishers (Google search) and sells them to advertisers (Google Adwords).
For many publishers there is a business model riddle left for them, and little money. Some would like to shoot the messenger, Google. The thirst for answers to the publisher's riddle of how to make money on the internet is so great that catch phrases or unproven theories have been taken up as assumed truths. Repetition has made them appear to be credible. It's time to debunk a couple of those catch phrases and theories.