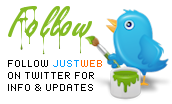 ---
71 visitors
are currently online at
just
web
®
---

---
SEO

(Search Engine Optimisation)
Statistics show us that
more than 80%
of traffic from search engines comes from organic results. Basically, unless you are on the first page of
Google
™, regardless if you have a PPC strategy, your website may not be performing to it's full potential. For experienced, proven
SEO Australia
results, contact us
today
about
website audits
, SEO, and how we can improve your organic search engine optimisation with proven results.
---
Copywriting

A
good copywriter
knows which words trigger the feelings that compel people to make decisions. They write with flair, making it easy for people to be drawn into what they are saying about your business, services or products. Read an an example of good copywriting for a fictitious Sydney
Mercedes Dealer
, or just "ok" website copy for a
Used Mercedes
dealer.
---
Trademarks

The most effective way to safeguard you against people "trading off" your business name, product or service, is to register a trademark. For more information, including about the
just
web
®
trade mark, please read our
trademark registration
article.
---
W3C Validated
:
XHTML
|
CSS
The following articles were gratefully supplied by
Dilanchian Lawyers and Consultants
- Intellectual Property and Innovation Professionals.
---
Home:
Article Index
'12
:
January-May
'11
:
January-March
,
April-June,
July-August
,
September-December
'10
:
January
,
February
,
March-June
,
July-September
,
October-December
'09
:
March
,
April
,
July
,
August
,
September
,
October
'08
:
Jan
,
Apr
,
May
,
Dec
'07
:
Dec
,
Nov
,
Oct
,
Aug
,
Jul
,
Jun
,
May
,
Apr
---

Improve human resources contracts and documentation
Employee or independent contractor? In the eyes of the law, employees and contractors are as different as apples and oranges. Creative lawyering can mess with those distinctions. More usually, people just fail to document legal relationships. Here are four practical points to help maintain clarify between who are contractors and who are employees.
Consultant or contractor intellectual property
More than ever businesses hire contractors and need practical legal advice for work by them. Contractors can include trainers, consultants, developers and other service providers. The legal distinction is that they are not employees.
Employment law and contract law are separate fields.
When contractor agreements sour a common legal issue is who owns the developed intellectual property?
Grow and keep wealth online
Website terms of use reduce risk
We recently spoke to a prospective client who did not renew a valued domain name registration, claiming receipt of only one registration renewal notice when four had been promised. The online domain registration contract was accepted several years ago; and nobody was sure if they had a copy. What to do?
Want to understand the legal risks you are taking in doing business online?
Read website terms of use before you do business. If you fail to read and save them, you are taking a risk. If you fail to use them for your own website, you keep your doors open for a myriad of legal threats. In the last six months we've drafted numerous terms of use for websites.
Record domain name sale prices mask a reality
The domain name fund.com was sold in March 2008 for a record sum of almost US$10 million. A gold digger mentality dominates discussion about domain names, the reality is different. Still, every business and organisation should have a clear domain name strategy as part of its way of protecting and growing wealth.
Teenage mobile phone use statistics
The habits of today's teenagers are market-shaping now and even more so in years to come. Up-to-date statistics provide clues. Read here how 58,480 teenagers aged 12 to 18 make use of mobile phones in 31 countries.
Take intellectual property assets to the next level
Intellectual property is not a thing
People get more excited about buying things than buying or improving skills, processes and know-how. It's misplaced emotional energy. The same "thrill of the chase" operates with many clients with intellectual property when they perceive it to be almost identical to real property and other types of physical assets. With real property generally over time it increases its value even if you do nothing; it's not the same with intellectual property. Therefore, energy should be focused on intellectual property refinement, transformation and conversion. Call if you want to discuss how with advice and documents those tasks can be immediately applied to your business.
Ray Charles learned from his mama
Other than musical brilliance, what else contributed to the US$75 million net worth of Ray Charles (1930-2004)? One thing is he listened to his mother. Another is he negotiated to own and control his key copyright assets.
Collaboration for invention
Why is everyone talking about Prof. Henry Chesbrough's concept of "open innovation" and why are collaborative arrangements suited to it?
What's your intellectual property strategy?
QUESTION: What are the most effective strategies for commercialisation of a company's ideas, products, R&D and intellectual property?
ANSWER: Read
intellectual property
information here.
Project management for lawyers
Economics before legal solutions
For some reason there's been a fixation over the last decade on the phrase "service level agreement", as if it is something special. The fact that it is not was discussed in Hints for Service Level Agreements. This is a follow-on article which illustrates how useful it can be for a business to generate economic or industry information for its lawyers to craft more commercially astute legal advice.
Speaking and training services
Noric Dilanchian is a presenter at the User-centric Web 2.0 conference in Sydney on 11-12 June. He will then be the trainer for the following four workshop in Malaysia and Singapore:
- Effective Contract Drafting (15-21 June 2008)
- Managing and Commercialising Technology, Intellectual Property and Brands (1-5 September 2008)