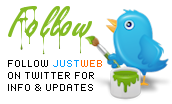 ---
69 visitors
are currently online at
just
web
®
---

---
SEO

(Search Engine Optimisation)
Statistics show us that
more than 80%
of traffic from search engines comes from organic results. Basically, unless you are on the first page of
Google
™, regardless if you have a PPC strategy, your website may not be performing to it's full potential. For experienced, proven
SEO Australia
results, contact us
today
about
website audits
, SEO, and how we can improve your organic search engine optimisation with proven results.
---
Copywriting

A
good copywriter
knows which words trigger the feelings that compel people to make decisions. They write with flair, making it easy for people to be drawn into what they are saying about your business, services or products. Read an an example of good copywriting for a fictitious Sydney
Mercedes Dealer
, or just "ok" website copy for a
Used Mercedes
dealer.
---
Trademarks

The most effective way to safeguard you against people "trading off" your business name, product or service, is to register a trademark. For more information, including about the
just
web
®
trade mark, please read our
trademark registration
article.
---
W3C Validated
:
XHTML
|
CSS
The following articles were gratefully supplied by
Dilanchian Lawyers and Consultants
- Intellectual Property and Innovation Professionals.
---
Home:
Article Index
'12
:
January-May
'11
:
January-March
,
April-June,
July-August
,
September-December
'10
:
January
,
February
,
March-June
,
July-September
,
October-December
'09
:
March
,
April
,
July
,
August
,
September
,
October
'08
:
Jan
,
Apr
,
May
,
Dec
'07
:
Dec
,
Nov
,
Oct
,
Aug
,
Jul
,
Jun
,
May
,
Apr
---

Restructure your business to get new capital gains tax concessions

If the business and tax structuring used in your business does not benefit from the capital gains tax concessions for small business then it may be time to restructure. This article discusses changes since 1 July 2006 and notes the four capital gains tax concessions available to small business. Listed at the end are Anton Joseph's other practical tax, business structuring and corporate regulation articles on our Website.
Checklist of 51 hints for data and IT security

Here is a list of 51 computer security problems and in each case a brief statement on solutions. Contact us for the solutions highlighted in green text. For technology solutions contact us for a referral to appropriate specialists.
Signed, Sealed, Delivered, I'm Yours

A recent NSW Supreme Court case provides a useful reminder on the benefit of having a clear date of contract and a good deal making and contracting process. Its cast of entertainment industry characters included Dame Kiri Te Kanawa, John Farnham, Leading Edge Events (a concert and event promotion company), and their respective agents, managers and directors. The takeaway from the case - it is far easier to find that there is a contract under law when one has a document clearly agreed and effective on and from a particular date.
Mozilla: An Intellectual Property Monster Story

This article unravels intellectual property law issues in the history of the Netscape company in the 1990s. It is an inspirational story for entrepreneurial Internet and Web commercialisation ventures. It discusses how Netscape overcame its major copyright, trade secrets and branding IP issues to move onto pioneering moves in venture valuation, venture capital and management of an IPO.
Australian fashion law and industry trends

Trade marked names make the money go round in clothing, footwear, perfume, jewellery and accessories markets. This article examines long term trends and recent statistics relevant to commercialisation, management and legal practices in the fashion sector in Australia. It ends with an overview of practical legal considerations for fashion labels in Australia.
US publicity rights clearances are essential

An introduction to publicity rights in the United States reviewing the Marilyn Monroe estate case of Shaw Family Archives Ltd v CMG Worldwide Inc. It has three practical takeaways for managing publicity rights.
Celebrating 100 Lightbulb law blog posts

Appearing on World IP Day, this is the 100th post of our firm's Lightbulb law blog. We began expecting to focus on intellectual property commercialisation and Australian IP law. The blog's scope quickly broadened to include the global application of IP law and related business and finance law.
Selected May 2007 Posts
If you want all posts get our RSS feed
- This brilliant
training video
explains RSS.
Billions made with Internet venture exit strategies

The April/May 2007 major spike in Internet, online new media and Web venture activity increased the heat in deal rooms in Australia, United States and Europe. We too were busy. This post overviews recent Internet deal making blips, prices and major trends.
Use design briefs to shape your projects

Many projects begin life in a brief. A brief defines project needs and sets the path towards a solution. A design brief helps in the document-intensive job of project definition and execution. Like all good project management, this reduces legal issues.
Use formats and genres to answer copyright questions

Being inspired by the work of others is one thing, infringement is another. Whether it is films, software or books, to reduce copyright law issues it helps to understand and apply know-how regarding formats and genres. This is another way to reduce legal issues.
New Media and Fair Dealing: Legal Knock-On

The National Rugby League (NRL ) was recently in the middle of a difficult legal stoush involving Telstra (its major sponsor) and Foxtel (its pay TV broadcaster). We watched the story unfold with interest, especially given legal rights over new media lay at the core of the now settled dispute.
Is your company's knowledge about IP woeful?

A 60 page preliminary report has recently been released in the UK revealing the answers by UK companies to 29 questions in a survey about IP. Compare your company's position to the results. Some survey results evidence a woeful level of knowledge in UK companies about intellectual property protection, management, licensing, valuation and enforcement.
Innovation defined and redefined

The word innovation is born again. It shot to stardom in the 1990s, then fell in our current decade into such common use that it can connote anything from invention and fundamental scientific discovery through to creativity and mere change.
Hunter Valley wine brands and branding

What's good, mediocre, bad or just plain ugly in wine branding in the Lower Hunter Valley? A weekend visit provided an opportunity to assess developments.
Special collection: Legal Case Studies

Case studies have helped grow our business. We'll be using three case studies in August 2007 when running two workshops for lawyers in Singapore and Kuala Lumpur on contract drafting. Here are quick links to 33 case studies on our Website which may help your business. The subjects range from beverages to IP licensing of software and content for mobile phones through to EBIT, price earnings multiples and other business valuation mechanisms.
AdWords contract upheld

This Google AdWords case helps answer this question under US law- when does an online transaction produce or amount to an enforceable or legally binding contract? For new technology there is a history of Australian courts turning to US cases for guidance. We found this case worth studying as we regularly draft online business contracts including for online advertising and sponsorship arrangements.
Restructuring co-operatives is hard work

There are many reasons for Mitre 10's slide, its business structure as a co-operative may be one of them. This post discusses business structuring and ends with a table comparing co-operatives to franchises and licences as alternative collaborative arrangements.