Law Articles October-December 2010 - Commercial Law, Trademark and Intellectual Property 2010
Law Articles - October to December 2010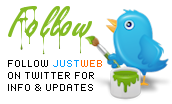 ---
30 visitors
are currently online at
just
web
®
---

---
SEO

(Search Engine Optimisation)
Statistics show us that
more than 80%
of traffic from search engines comes from organic results. Basically, unless you are on the first page of
Google
™, regardless if you have a PPC strategy, your website may not be performing to it's full potential. For experienced, proven
SEO Australia
results, contact us
today
about
website audits
, SEO, and how we can improve your organic search engine optimisation with proven results.
---
Copywriting

A
good copywriter
knows which words trigger the feelings that compel people to make decisions. They write with flair, making it easy for people to be drawn into what they are saying about your business, services or products. Read an an example of good copywriting for a fictitious Sydney
Mercedes Dealer
, or just "ok" website copy for a
Used Mercedes
dealer.
---
Trademarks

The most effective way to safeguard you against people "trading off" your business name, product or service, is to register a trademark. For more information, including about the
just
web
®
trade mark, please read our
trademark registration
article.
---
W3C Validated
:
XHTML
|
CSS
The following articles were gratefully supplied by
Dilanchian Lawyers and Consultants
- Intellectual Property and Innovation Professionals.
---
Home:
Article Index
'12
:
January-May
'11
:
January-March
,
April-June,
July-August
,
September-December
'10
:
January
,
February
,
March-June
,
July-September
,
October-December
'09
:
March
,
April
,
July
,
August
,
September
,
October
'08
:
Jan
,
Apr
,
May
,
Dec
'07
:
Dec
,
Nov
,
Oct
,
Aug
,
Jul
,
Jun
,
May
,
Apr
---

Plan for disruption, WikiLeaks did
Sunday, 05 December 2010
The continuing survival of WikiLeaks is a testament to the planning work carried out for the venture. Business, social and community disruptors take note - those currently in power don't take kindly to disruptors. WikiLeaks is a disruption for states, diplomats and the military-industrial complex. More than ever WikiLeaks, a not-for-profit media organisation, is under POLITICAL ATTACK by states. Foreign policy heads of the U.S., Australia, France and Saudi Arabia have all sent negative signals about WikiLeaks. In the information age, for WikiLeaks and its media allies (the New York Times and a few other traditional news publishers are paying WikiLeaks in its current "first look" payment arrangement), information is an asset, currency and tool. It's a disruption because for states the game is about secrecy. Foreign Minister Kevin Rudd is quoted saying today: "The Australian government unequivocally condemns the action by any of those responsible for the unauthorised release of classified and confidential information and diplomatic communications between states."
Academic IP revenue rights in technology commercialisation
Monday, 22 November 2010
Years ago I had an enquiry from a former academic at a university. It was a simple matter and the client paid for the advice. The client then instructed me to advise on a separate matter. I found it was not possible to satisfy the client the second time around. The background is the client had worked as an employed academic for some time at the university researching a technology. The client had left academia to join a start-up company commercialising the technology first developed at the university. The client instructed me to advise on claiming a share of commercialisation revenues which the start-up company had paid the university.
11 variables for consultancy services agreements
Tuesday, 09 November 2010
Over many years of advising and working closely with consultants, I've perfected how to simplify contracts for consultancy services agreement. I usually recommend a contract in a letter agreement format. I normally title these "Consultancy Services Agreement". They are for services a consultant will provide to a client for a fee.
No written contract? We can help
Monday, 18 October 2010
Lawyers help clients resolve contract law disputes even when there is no written contract. Usually the costs increase, but we have ways to reduce them. Written contracts are great business tools. Complications arise when there is no written contract. This usually leads to missing (and often legally critical) details.