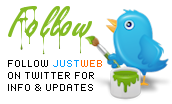 ---
66 visitors
are currently online at
just
web
®
---

---
SEO

(Search Engine Optimisation)
Statistics show us that
more than 80%
of traffic from search engines comes from organic results. Basically, unless you are on the first page of
Google
™, regardless if you have a PPC strategy, your website may not be performing to it's full potential. For experienced, proven
SEO Australia
results, contact us
today
about
website audits
, SEO, and how we can improve your organic search engine optimisation with proven results.
---
Copywriting

A
good copywriter
knows which words trigger the feelings that compel people to make decisions. They write with flair, making it easy for people to be drawn into what they are saying about your business, services or products. Read an an example of good copywriting for a fictitious Sydney
Mercedes Dealer
, or just "ok" website copy for a
Used Mercedes
dealer.
---
Trademarks

The most effective way to safeguard you against people "trading off" your business name, product or service, is to register a trademark. For more information, including about the
just
web
®
trade mark, please read our
trademark registration
article.
---
W3C Validated
:
XHTML
|
CSS
The following articles were gratefully supplied by
Dilanchian Lawyers and Consultants
- Intellectual Property and Innovation Professionals.
---
Home:
Article Index
'12
:
January-May
'11
:
January-March
,
April-June,
July-August
,
September-December
'10
:
January
,
February
,
March-June
,
July-September
,
October-December
'09
:
March
,
April
,
July
,
August
,
September
,
October
'08
:
Jan
,
Apr
,
May
,
Dec
'07
:
Dec
,
Nov
,
Oct
,
Aug
,
Jul
,
Jun
,
May
,
Apr
---

Business Law
How to negotiate and contract like a professional
Do you need a practical guide to negotiate a commercial deal, contract, arrangement or understanding? Then you need to understand the deal making process.
Priceless contract law advice (MasterCard® affiliation disclaimed*)
Practical guidance on how to identify, search and check parties to a contract.
Four tasks to increase values or prices in business transactions
In transaction after transaction four tasks stand out as ways to significantly maximise financial returns and minimise risks.
Paydays, Maydays and Judgement Days
Business requires decision making. This meditation was triggered by recent paydays, Maydays and judgements.
The cooks, the critics, the restaurant proprietors and their court cases
On 14 June 2007 the High Court of Australia ruled a restaurant review can be liable for defamation. This is not new law, but it is a serious reminder of how risky speech is in Australia. "Freedom of speech" is not enshrined in Australian law. Speech is risky because of defamation law.
Business on the Web
Shopping list for e-commerce
The retail e-commerce sector was worth an estimated A$17 billion in 2006. Why is PayPal so successful? How can you add e-commerce functionality to your business? What's legally important?
Ten topics at the Future of Media Summit 2007
Here are quotable quotes from the Future of Media Summit held simultaneously in Sydney and San Francisco this month. Short comments, all worth pondering.
Beware of Web 2.0 crossing the chasm
Australian Internet start-ups looking for real growth face two principles as the market gets hot: Growth brings its own set of challenges and dangers and It is harder to communicate above a din.
Make the Web grow your business, ask us how
Issues were discussed in the prior post, Beware of Web 2.0 crossing the chasm. Now we turn to six practical points for Internet start-ups crossing the chasm.
Think digital, think future proofing
Lawyers are usually archaeologists. Intellectual property lawyers are often futurists.
Revenues and stock prices of Google and eBay in context
Bloomberg.com recently reported that in 2004 eBay and Google had almost equal sales revenue. Since then revenue tripled for Google to US$10.6 billion in 2006 and eBay's rose 82% to US$5.97 billion. Compare this to revenues in the Australian information and communications technology context.
The war for Internet talent
Hire real talent to go where others have not gone and your business will grow with today's audiences as they mature.
Internet video advertising statistics and law
Internet video advertising is centre stage, just as TV advertising faces ever-increasing challenges and the newspaper business goes from bad to worse in many markets.
Intellectual Property Law and Commercialisation
Trade mark lawyers who say "Hell yeah!"
Does your organisation have lots of trade marks in different styles sending different messages to the same customers? We've applied "brand architecture" to solve this problem.
Commercialisation strategy & business valuation multiples: 15 questions
The situations businesses find themselves in are variable and challenging. Rarely is it about joining dots. Here are 15 questions, answers to which will take a developed business to the next stage.
How I became a celebrity chef with intellectual property
The restaurant industry bible, The Sydney Morning Herald Good Food Guide is well known to our clients – chefs, Benjamin Christie and Vic Cherikoff. But they've founded successful businesses using the Internet's format-agnostic lingua franca of Transmission Control Protocol (TCP) and Internet Protocol (IP). Read how.