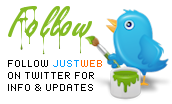 ---
67 visitors
are currently online at
just
web
®
---

---
SEO

(Search Engine Optimisation)
Statistics show us that
more than 80%
of traffic from search engines comes from organic results. Basically, unless you are on the first page of
Google
™, regardless if you have a PPC strategy, your website may not be performing to it's full potential. For experienced, proven
SEO Australia
results, contact us
today
about
website audits
, SEO, and how we can improve your organic search engine optimisation with proven results.
---
Copywriting

A
good copywriter
knows which words trigger the feelings that compel people to make decisions. They write with flair, making it easy for people to be drawn into what they are saying about your business, services or products. Read an an example of good copywriting for a fictitious Sydney
Mercedes Dealer
, or just "ok" website copy for a
Used Mercedes
dealer.
---
Trademarks

The most effective way to safeguard you against people "trading off" your business name, product or service, is to register a trademark. For more information, including about the
just
web
®
trade mark, please read our
trademark registration
article.
---
W3C Validated
:
XHTML
|
CSS
The following articles were gratefully supplied by
Dilanchian Lawyers and Consultants
- Intellectual Property and Innovation Professionals.
---
Home:
Article Index
'12
:
January-May
'11
:
January-March
,
April-June,
July-August
,
September-December
'10
:
January
,
February
,
March-June
,
July-September
,
October-December
'09
:
March
,
April
,
July
,
August
,
September
,
October
'08
:
Jan
,
Apr
,
May
,
Dec
'07
:
Dec
,
Nov
,
Oct
,
Aug
,
Jul
,
Jun
,
May
,
Apr
---

Restructure your business to get new capital gains tax concessions
There are new capital gains tax concessions for small business. To benefit you may have to establish or reorganise your affairs and business structures.
GST planning for outsourcing and offshoring
It is widely accepted that in our present era globalisation of trade and business has dramatically escalated economic development. The developing world is leaping forward towards economic prosperity at a pace not imaged a few years ago. Capital gains tax planning builds on the benefits of this trade.
Employment records and pay slips law Q&A
From 27 March 2007 the Workplace Relations Regulations 2006 imposes record keeping and pay slip records obligations on employers who engage workers under the WorkChoices legislation.
Coffee brand values
This is an instructive story about Ethiopia's attempt to increase its coffee revenues using brands, IP strategy and licensing contracts - all founded on trade marks Ethiopia seeks to register across the world.
Ribena's Purple Prose Penalty
GlaxoSmithKline was fined A$201,000 in New Zealand for misleading statements about the Vitamin C content of some Ribena products. After examining the "Ribena-gate" controversy, this article sets out practical guidance for legal compliance by beverages.
Digital music technology and copyright timeline
The timeline in this article sets out developments both for digital music technology and copyright law.
Private equity or private debt? Beware the Ides of March.
Not a day passes without news or concerns expressed about private equity taking on bigger businesses for acquisition. This article examines the burden of debt and other financial and legal concerns regarding private equity.
Thank God You're Licensing Us!
Working Dog's latest TV creation "Thank God You're Here" (TYGH) has just taken the honour of being the first Australian television format to be licensed to a US Network. We hope it has avoided Copyright traps for television formats.
"Thirsty folk want beer, not explanations"
Mike Clarke writes "Having recently returned from a whirlwind tour of Europe, a trade mark dispute floated across my radar that was very close to my heart. Or rather, my taste buds."
Top 10 questions on how to hire a writer
This post will help you hire a writer with a legally binding contract, while also protecting you against a host of risks. From a legal perspective it comes down to money, credit and copyright.
Secret business failure business
Ask someone why their business failed and you'll rarely hear them say that it was because of information mismanagement. Yet the lack of record making and keeping is often present in failed businesses.
Tracking Web developments
As a law firm actively engaged in working with start-ups and established enterprises to build online traffic and e-commerce websites, here's how at Lightbulb we've tracked IT developments in the last 18 months.
Blogs that work in the "attention economy"
Who is popular online among business-related blogs and websites, including Australian blogs?
Oracle claims trade secrets "theft on a grand scale"
Legal writing can read like a detective thriller. Here's a US example involving trade secrets.
Top 50 trade marks in the UK in 2006
The UK ranks very high for Australian businesses considering registering their trade marks in export markets. This is confirmed by recent UK Intellectual Property Office statistics.
National and international patent application numbers
There were five million patents in force worldwide in 2004 and they reached that point at an exponential rate. The increase over the last five years is great in Japan, UK and US and even greater in Korea, China and India.
IT companies pile on patents in the US

IP strategy involves knowing what to register or protect, what to license and what to give away. This post lists the statistics of IBM, Microsoft and HP on patent registrations and IP licensing revenues.
Barry Diller on media and corporate governance
The Financial Times in the UK recently featured two striking videos interviewing Barry Diller speaking on media and corporate governance in the US. More
Why the authors who sued The Da Vinci Code lost twice
<> It is a Hollywood truism that commercially successful films attract litigation. So do wildly successful works of literary fiction. Why do people sue against successful films and novels? Answer: usually, for a slice of the money.
The business of making money from IP
Our focus here is on IP strategy issues for the music industry. The topic affects all copyright-based industries.
7 commercialised IT technologies
"Some months ago I dragged a comb across a bunch of newish IT technologies. Then I read the news today, oh boy, Skype has 171 million registered users world-wide."