Business Law Articles - Commercial Law, Trademark and Intellectual Property January 2010
Law Articles - January 2010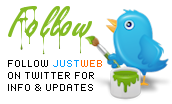 ---
73 visitors
are currently online at
just
web
®
---

---
SEO

(Search Engine Optimisation)
Statistics show us that
more than 80%
of traffic from search engines comes from organic results. Basically, unless you are on the first page of
Google
™, regardless if you have a PPC strategy, your website may not be performing to it's full potential. For experienced, proven
SEO Australia
results, contact us
today
about
website audits
, SEO, and how we can improve your organic search engine optimisation with proven results.
---
Copywriting

A
good copywriter
knows which words trigger the feelings that compel people to make decisions. They write with flair, making it easy for people to be drawn into what they are saying about your business, services or products. Read an an example of good copywriting for a fictitious Sydney
Mercedes Dealer
, or just "ok" website copy for a
Used Mercedes
dealer.
---
Trademarks

The most effective way to safeguard you against people "trading off" your business name, product or service, is to register a trademark. For more information, including about the
just
web
®
trade mark, please read our
trademark registration
article.
---
W3C Validated
:
XHTML
|
CSS
The following articles were gratefully supplied by
Dilanchian Lawyers and Consultants
- Intellectual Property and Innovation Professionals.
---
Home:
Article Index
'12
:
January-May
'11
:
January-March
,
April-June,
July-August
,
September-December
'10
:
January
,
February
,
March-June
,
July-September
,
October-December
'09
:
March
,
April
,
July
,
August
,
September
,
October
'08
:
Jan
,
Apr
,
May
,
Dec
'07
:
Dec
,
Nov
,
Oct
,
Aug
,
Jul
,
Jun
,
May
,
Apr
---

How to make people and their products celebrities
How does puffery about Sarah Palin become valuable airspace? How are Palin and Poh Ling Yeow linked by their desire for media presence?
Consider what process may have occurred that caused Australians to collectively recognise "Po" as a reference to a TV chef and not a Teletubbie, and the potential commercial value of that shift.
We have often written about the use of law to make and keep products and people celebrities. It's the story of how to identify, build and own a trend.
Number of publishers blocking Google spiders
"If you follow the media-versus-Google meme, you know this instinctively. But here are some numbers that spell it out: Of the 25,000-plus sources cataloged by Google News, 'less than 100' have opted out of the index, says Google's Josh Cohen, who runs the [Google News] service."
Source: Peter Kafka, A Very Short List: Publishers That Have Actually Told Google to Take a Hike, All Things Digital (section of The Wall Street Journal), 21 December 2009.
Working for free is bad for business
You have to give to get. This is a great principle to follow when preparing a proposal for a client or negotiating a deal. But there should be limits on how much is given free-of-charge. The interesting point is how and why this is so.
Service providers such as IT developers and consultants are selling intangible services. Often they have to give quite a lot free-of-charge before being paid back or winning a legally binding contract.
Training courseware intellectual property protection
To earn and secure revenues from intellectual property licensing, providers of training or training courseware are well advised to apply available legal solutions with rigour.
This is easily done, it is neither expensive nor complex. However, implementation of the solutions requires specialist knowledge that is not commonplace.
Because of that reality it is commonplace for training organisations to poorly protect their intellectual property.