Law Articles - Web site design business based in Sydney, Australia - we develop simple, economical and functional web sites with easy navigation and effective seo.
Business Law Articles - January 2008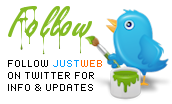 ---
35 visitors
are currently online at
just
web
®
---

---
SEO

(Search Engine Optimisation)
Statistics show us that
more than 80%
of traffic from search engines comes from organic results. Basically, unless you are on the first page of
Google
™, regardless if you have a PPC strategy, your website may not be performing to it's full potential. For experienced, proven
SEO Australia
results, contact us
today
about
website audits
, SEO, and how we can improve your organic search engine optimisation with proven results.
---
Copywriting

A
good copywriter
knows which words trigger the feelings that compel people to make decisions. They write with flair, making it easy for people to be drawn into what they are saying about your business, services or products. Read an an example of good copywriting for a fictitious Sydney
Mercedes Dealer
, or just "ok" website copy for a
Used Mercedes
dealer.
---
Trademarks

The most effective way to safeguard you against people "trading off" your business name, product or service, is to register a trademark. For more information, including about the
just
web
®
trade mark, please read our
trademark registration
article.
---
W3C Validated
:
XHTML
|
CSS
The following articles were gratefully supplied by
Dilanchian Lawyers and Consultants
- Intellectual Property and Innovation Professionals.
---
Home:
Article Index
'12
:
January-May
'11
:
January-March
,
April-June,
July-August
,
September-December
'10
:
January
,
February
,
March-June
,
July-September
,
October-December
'09
:
March
,
April
,
July
,
August
,
September
,
October
'08
:
Jan
,
Apr
,
May
,
Dec
'07
:
Dec
,
Nov
,
Oct
,
Aug
,
Jul
,
Jun
,
May
,
Apr
---

Special Collection: Business Structuring
Business failure or stagnation can often be due to the use of inappropriate business structures. This exists with "accidental" business structures. They are formed with too little planning for current or future business needs. Issues may lurk for years. But when pressures mount, these "accidental" structures tend to break up, unable to adapt or reinvent themselves, unable to cope with the stress of issues, problems and disputes. For the stakeholders the financial and personal costs can be extreme.
Collected here are 15 perspectives on business structuring. Most are inspired by our case work. The topics include - exit strategies, IP management, negotiations for becoming a stakeholder in a business, forming a collaboration, re-structuring a co-operative, employment contracts, and capital gains tax.
Cue Articles and Lightbulb Blog Posts
Business model defined
Here's the best definition we've ever come across of the term "business model". It comes from a book containing original academic research into business model issues at the Palo Alto Research Centre (PARC). PARC is arguably the greatest IT research centre of all time. The PARC riddle is - how did it succeed in invention and fail in IP and technology commercialisation? The takeaway is that carefully crafted business models build the bottom line.
Facts are critical for success in war and law
If you are in a dispute which needs resolution it is critical to first identify the most relevant and reliable facts. This is a practical article with a "do it yourself" guide on how to create a collection of facts which can save legal costs and be the foundation for legal advice.
Project management rules for IT proposals & contracts
Project management remains among the most useful areas of management know-how. This is illustrated in this post which contains recommended practical improvements for business proposals and contract formats.
Creative Commons licences are useful but oversold
Creative Commons licences have been taken up by content owners to combine broader digital distribution with simple licence terms and conditions. This article is a detailed critique of the benefits and weaknesses of Creative Commons contracts for such copyright licensors. Read this article if you think a Creative Commons licence will be a quick fix for your organisation. There are alternatives which may better suit your needs.
"New England Australia" is now a geographic indicator for wine
Certain wines from "New England Australia" can now exclusively use that name on their labels. The name is being recognised under Australian wine law in the Register of Protected Names.
Jurisdiction clauses, legal rules and rulers

Triggered by the December 2007 sale of a Magna Carta manuscript for A$24.8 million, this articles follows an 800 year trail of gold, legal rules and rulers. It focuses on the competition in recent decades in international commercial law between the law of London versus the law of New York. London is racing ahead. For clients very important practical implications arise for the jurisdiction clauses in their international contracts.
Guest Articles on Migration Law - Migration expert Paul Hense continues his series.
Gay and lesbian visa applications for Australia
Did you know that gay or lesbian partners of Australian permanent residents or citizens can apply for permanent residence of Australia? This article overviews the legal criteria and progress against legal discrimination.
Popular articles from 2007
Liquor sector trends and statistics for 2007
What every business should know about common law employment contracts
Private equity or private debt? Beware the Ides of March.
Digital music technology and copyright timeline
Music Business Entrepreneurship: Eulogy for James Brown