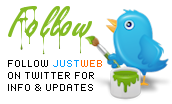 ---
41 visitors
are currently online at
just
web
®
---

---
SEO

(Search Engine Optimisation)
Statistics show us that
more than 80%
of traffic from search engines comes from organic results. Basically, unless you are on the first page of
Google
™, regardless if you have a PPC strategy, your website may not be performing to it's full potential. For experienced, proven
SEO Australia
results, contact us
today
about
website audits
, SEO, and how we can improve your organic search engine optimisation with proven results.
---
Copywriting

A
good copywriter
knows which words trigger the feelings that compel people to make decisions. They write with flair, making it easy for people to be drawn into what they are saying about your business, services or products. Read an an example of good copywriting for a fictitious Sydney
Mercedes Dealer
, or just "ok" website copy for a
Used Mercedes
dealer.
---
Trademarks

The most effective way to safeguard you against people "trading off" your business name, product or service, is to register a trademark. For more information, including about the
just
web
®
trade mark, please read our
trademark registration
article.
---
W3C Validated
:
XHTML
|
CSS
The following articles were gratefully supplied by
Dilanchian Lawyers and Consultants
- Intellectual Property and Innovation Professionals.
---
Home:
Article Index
'12
:
January-May
'11
:
January-March
,
April-June,
July-August
,
September-December
'10
:
January
,
February
,
March-June
,
July-September
,
October-December
'09
:
March
,
April
,
July
,
August
,
September
,
October
'08
:
Jan
,
Apr
,
May
,
Dec
'07
:
Dec
,
Nov
,
Oct
,
Aug
,
Jul
,
Jun
,
May
,
Apr
---

Tertiary education's alternative futures
Tuesday, 22 May 2012
A recent Mark Cuban blog post on the cost of tertiary education and the level of student debt in the United States has relevance which extends beyond his country and topic. It grapples with major issues about the future of tertiary education. It's a huge topic. This is just a Lightbulb note for reference.
Cuban's title is overblown: "The Coming Meltdown in College Education & Why The Economy Won't Get Better Any Time Soon". Cuban is often a scrappy writer. This does not get in the way of the fact that he is easy to read, explores new ideas, and debates opinions, often in opposition to popular views.
On student debt the alarming debt figures he quotes speak for themselves. He states that the "37 million holders of student loans have more debt than the 175 million or so credit card owners" in the United States. He says this is more than the debt on cars in the United States.
Employee loyalty, what's measured gets done
Wednesday, 16 May 2012
People create intellectual property. This requires the loyalty of employees and independent contractors and loyalty in return from the organisations that engage them.
Loyalty can be eroded by mismanagement. It is also being eroded it seems by wider changes. This includes the way people today find jobs, change jobs, and work. From CEO down, employees are shifting jobs at a faster rate than ever.
Digital content user interface inspiration
Friday, 11 May 2012
Digital content developers appreciate that today differences betweens screens affect user experience with content. User experience differs in numerous ways for content between tablets, smartphones, ereaders, laptops and desktops. Content jumps off the screen when it suits the target format or device. Today content follows format, a reversal of the 20th century design principle that form follows content.
Look for exponential growth
Thursday, 10 May 2012
What triggered Jeff Bezos, founder of Amazon.com, to put all his eggs in 1994 into his online business and its commercialisation?
Was it love of books? Was it confidence in his programming capability, which first developed in high school? Being a graduate of Princeton where he designed a computer system to calculate DNA sequences? Securing angel investors? Or was it securing venture capital from a blue chip Silicon Valley firm? It was all of that. And none of that.
Richard L. Brandt, author of One Click: Jeff Bezos and the Rise of Amazon.com, assures us page after page that the trigger was Bezos noted in 1994 the exponential growth in the numbers of users of the internet.
Start-up growth: how to sustain it
Wednesday, 09 May 2012
My approach to law draws a great deal of inspiration from thinking by economists. What works in economics thinking for countries often also does for start-up, established or institutional business. The latest inspiration for this is The Next Convergence: The Future of Economic Growth in a Multispeed World. This 2011 book is by Michael Spence, a Nobel Prize recipient in Economic Science in 2001.
After serving as a dean at Stanford and Harvard, for the World Bank Commission on Growth and Development, from 2006 to 2010 Spence reluctantly took on the mission to research what made growth tick for developing countries. What Spence's field research uncovered is to my mind as applicable for business growth as it is for growth by developing countries.
Online video monetisation: TED Talks
Saturday, 28 April 2012
Will your business fly with proper use of online video? Then consider TED a useful case study. A TEDx event takes place every day somewhere in the world. Locally there's TEDxSydney and TEDxMelbourne.
TED Talks have had more than 500 million views online and earn millions from event tickets, advertising, and event licensing fees. TED has presence in branded events, online videos, and mobile apps. TED's impressive story begins in 1984.
Value for money lawyers - how to find them
Wednesday, 18 April 2012
"What are best practices when dealing with expensive lawyers to reduce time and cost?" This was a question I answered today on Quora, a Q&A website. He's my answer.
The short answer is don't give work to "expensive" lawyers. Find ones who deliver value for money. Is your preferred restaurant, car, perfume, or computer expensive? You're a poor consumer if you don't focus on value for money.
Read more... Add new comment
7 mobile app legal tasks
Monday, 16 January 2012
If you're developing a mobile device app I'm sure you've been reading a lot, having conversations with prospective partners, and seeking other collaborators. Use the list below to check legal needs are covered. It's advice I've provided for developers. It's just as relevant for clients commissioning development of mobile apps.
IP protects design
Wednesday, 11 January 2012
Many elements of package design can be protected with intellectual property law. Do-it-yourself designs need not apply. Together with do-it-yourself logos, they rarely qualify as great IP or easily stand up to legal attack in our experience. So if IP law thinks they are rubbish why invest in them?
Future IT
Tuesday, 10 January 2012
Waves are a common and useful metaphor for change, including for technological change. Long-term waves in IT history, as observed by Brenda Laurel, are discussed in Structured networks and the next internet wave. Contemporary waves were discussed last month in Technology Waves and the Hypernet by IT investors, Roger McNamee and Mike Maples in their new blog, The Hypernet.
Pure Blonde's branding makeover
Monday, 09 January 2012
Carlton United's new branding for Pure Blonde is likely to help it in any future trade mark protection or related legal action.
The new bottle and label design makes three changes. It has an embossed Pure Blonde crest in the glass, giving it a separate status as a brand. It has a central label which emphasises the word "Pure", having taken the crest out. It has a longer neck label that connotes premium and emphasises the word "Premium".
Through rebranding Carlton not only keeps its product's identity fresh and contemporary, it also strengthens its legal rights to protect its intellectual property.
When we last wrote about Pure Blonde in "Trade mark law strategy kept simple for blondes". On the right is the bottle with its original labels. The emphasis there too was on clever tactics with intellectual property, specifically, use of scope creep in the trade mark strategy for Pure Blonde.