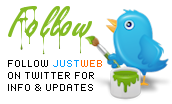 ---
73 visitors
are currently online at
just
web
®
---

---
SEO

(Search Engine Optimisation)
Statistics show us that
more than 80%
of traffic from search engines comes from organic results. Basically, unless you are on the first page of
Google
™, regardless if you have a PPC strategy, your website may not be performing to it's full potential. For experienced, proven
SEO Australia
results, contact us
today
about
website audits
, SEO, and how we can improve your organic search engine optimisation with proven results.
---
Copywriting

A
good copywriter
knows which words trigger the feelings that compel people to make decisions. They write with flair, making it easy for people to be drawn into what they are saying about your business, services or products. Read an an example of good copywriting for a fictitious Sydney
Mercedes Dealer
, or just "ok" website copy for a
Used Mercedes
dealer.
---
Trademarks

The most effective way to safeguard you against people "trading off" your business name, product or service, is to register a trademark. For more information, including about the
just
web
®
trade mark, please read our
trademark registration
article.
---
W3C Validated
:
XHTML
|
CSS
The following articles were gratefully supplied by
Dilanchian Lawyers and Consultants
- Intellectual Property and Innovation Professionals.
---
Home:
Article Index
'12
:
January-May
'11
:
January-March
,
April-June,
July-August
,
September-December
'10
:
January
,
February
,
March-June
,
July-September
,
October-December
'09
:
March
,
April
,
July
,
August
,
September
,
October
'08
:
Jan
,
Apr
,
May
,
Dec
'07
:
Dec
,
Nov
,
Oct
,
Aug
,
Jul
,
Jun
,
May
,
Apr
---

The Dilanchian "Lightbulb" Newsletter has been on a short hiatus while they update their website. The website,
www.dilanchian.com.au
, uses the Joomla CMS (content management system), and, as with any CMS, it needs be maintained regularly, and at some point, completely upgraded. For Joomla work, Dilanchian Lawyers and Consultants use
citipro.com.au
.
App Store downloads - can't catch me sings Steve Jobs
Steve Jobs is probably singing in his shower at the escalating success of the iPhone App Store. See the extract below from Apple's press release today (US time), 14 July 2009. In less than three months Apple has gone from 1 billion App Store downloads to now 1.5 billion! In less than 12 months it's gone from zero downloads to 1.5 billion.
Lightbulb has the lyrics and melody to fit! Cue music - Chuck Berry's wonderful 1956 hit, You Can't Catch Me. Berry is as trilled with his new automobile as people are today with mobile phones.
How many on Facebook in Australia?
"There are 3,186,230 people in the Australian [Facebook] network." Source: Facebook, 14 July 2009. Further reading: Facebook's monetization strategy.
Debt recovery dos and don'ts
Debt recovery becomes a priority especially during an economic downturn so here's an updated practical article on the subject.
Bad debts can drive a business into insolvency, expose proprietors to personal liability and lead to far worse. Late payments can do the same.
Aiming for best practice, here's a short list of debt recovery dos and don'ts helpful for creditors.
The joy of IP strategy - 10 questions
All businesses have some intellectual property (IP), and most can do with a better IP strategy. For a better IP strategy it helps to ask the right questions.
Here are 10 practical questions for a business or idea based on IP. They come from tracking hundreds of client matters in our firm. The questions are especially useful for an IP strategic planning exercise.
Strategy makes domain name gold
Domain name sales continue to attract occasional remarkable prices. That's great news for a few, but for millions of other domain name holders a reminder is needed that there's no such thing as a free lunch.
As new domain spaces have opened up they've been gold fields for registration services. This is because companies and individuals have rushed to pay and secure valuable names or names perceived to be valuable at some time.
What's missed in the rush is an articulated strategy for name protection and registration. It is this strategy which for most can turn a name into gold.
Business performance and metrics for SLAs
I have a favourite question in conversations with start-ups and new clients. I ask it very early in a first client interview. It is a question which leads to discussions about the client's business or commercial situation. I ask the same question of clients who seek SLAs (so-called service level agreements).
It's a question designed to shed light on the client's business model. It also helps identify the business performance metrics or measures which help prepare a good contract to achieve an effective legal solution.
Legal costs and barrister fees
In June 2009 the Australian Bureau of Statistics published Legal Services, its latest round of statistics on the legal sector. It contained the graphic on the left charting barrister fees and work areas. You'll see intellectual property is about 5% of barrister fees, AKA barrister litigation legal costs.
Contract Drafting Tips Series: IP Licences
Just published as a Library download is the PDF of my paper titled Current approaches for drafting IP licences.
Commercialisation defined
This article seeks to define commercialisation, and the related concepts of entrepreneurship and innovation. It does this in the context of many disciplines, including law.
Our interest is particularly on the affect of innovation, entrepreneurship and commercialisation on intellectual assets.
Definitions are important because without them discussions can turn to mud. Preparing definitions can be very hard work. It involves putting a great weight on one's shoulders, like Atlas in the accompanying photo taken in New York's Rockefeller Center in the early 1980s.
A complication for developing useful definitions is that different disciplines use different terms. When referring to intellectual assets lawyers tend to use "intellectual property", management consultants use "intellectual capital", scientists and engineers might use "technology" and accountants use.