Sometimes it can cost as little as a month or two worth of Google ads to push your website up into page one of the Google organic listings for at least a few of your top key phrases. Even though this may cost you a little in the short term, in the long term, this may be considered virtually free advertising on Google.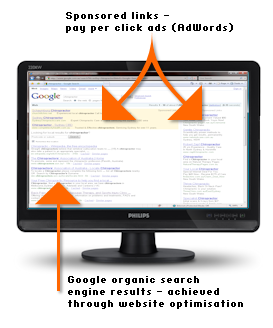 The other motivation for paying more attention to your on-site (and off-site) optimisation is the fact that the majority of users actually click the organic results rather than the Google ads. So, if your website is not on page one, or in some cases page 2, then quite simply you are missing out on business.
Some website owners just throw their hands up in the air in frustration and say it's too hard, or too expensive - or both! Some, however, may be misled into believing they cannot improve their results. And in some instances, that may be the case.
However, it is far better to do SOMETHING, rather than do nothing at all.
It is absolutely in your best interests AND your customers' best interests to ensure your website is informative and relevant
.
Lets look at a comparative case study
Our client,
Back to Basics Chiropractic
, displays on page one of Google in the organic results for simply "
chiropractor
", which is searched for 22,000 times per month on average in Google. They come up for many other related results as well, but if they show up for something as searched for and generic as just "
chiropractor
", then other good results are almost a given.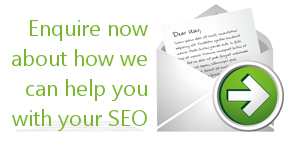 Compare this to
Thrive Chiropractic
, located at Potts Point. If you search for "
chiropractor Potts Point
", their website comes up in the organic results, as well as the "sponsored links", or pay per click ads. The good folk at Thrive might be happy with this - until they learn that very few people, if any, search for that phrase, so their organic result appears to be a little wasted.
Looking at their Google Ad, they appear to target East Sydney. So if we search for "
chiropractor East Sydney
", again we see their Google Ad, but they have no organic result. Not a big tragedy because once again, few people, if any, search for that phrase.
Site and result comparisons
Please note:
the following information was valid as of
09.00, 02 March 2009
, and is derived from Google stats only. This information shows various searches performed by people on Google, along with the position of the website, and the number of results displayed by Google.
keyphrase | # of searches (average per month) | result position for website | # of results displayed
Back to Basics Chiropractic (Kogarah and Parramatta)
chiropractor
: 22,100 searches | position #5 - 7.88 million results
(first 4 results are not chiropractors - only 2 results on page 1 are chiropractors)
chiropractor Kogarah
: 140 searches | position #1 and 2 - 6,600 results
chiropractor Parramatta
: 140 searches | position #4 - 11,000 results
chiropractic problems
: 880 searches | position #2 and 3 - 2.89 million results
Thrive Chiropractic (Potts Point)
chiropractor East Sydney
: not enough data (0) | not in first 3 pages - 29,000 results
chiropractor Potts Point
: not enough data (0) | map position: #2 - not in results - 6,250 results
chiropractic East Sydney
: not enough data (0) | not in first three pages - 29,000 results
chiropractic Potts Point
: not enough data (0) | map position: #2 - not in results - 5,880 results
What is the reason for the good performance versus poor performance?
It's very simple really. Even though the Thrive Chiropractic website uses validated (
W3C standards
) coding (they get "bonus points" for this), it has almost no search engine optimisation built into its construction, and the SEO that is there, has not been done correctly.
Even though the list is longer, and it is more complicated than this, some of the key points they are failing in are:
Titles (neither researched nor effective)
URLs (page23/page23.html - Huh? What page is this?)*
Sitemaps (non-existent)
Backlinks (virtually none)
Social bookmarking (none)
etc. etc. etc.
General observations
From an aesthetic point of view (nothing to do with SEO), it's not a bad looking site, however it is odd they only brand the home page.
Their traffic has improved in recent months, however they still receive very little "organic" traffic, and have quite a low traffic ranking overall.

If you are in the same position as Thrive and want to see improvements in your organic Google results, please check out our
website audit service
. We are that confident we can improve your results, we offer a
100% money back guarantee
if we cannot improve your current position**.
As long as one keeps searching, the answers come - Joen Baez
Whereas the above quote may be true in life, it is not the case when dealing with Internet searches. If you do not appear on the first page of Google, most people will stop searching
because they have already found your competitor
!
* Re URLs, site construction plays a key factor in effective search engine optimisation. If your site construction is not up to scratch, or you use a content management system (CMS) or shopping cart, it may be more expensive to optimise your site. Please ask us for more information.
** The quality of results may depend (at least in part) on you taking our advice about crucial parts of your website, or even your participation in strategies to improve your website performance. Partly done optimisation can certainly improve your results, but should be part of a big picture strategy.