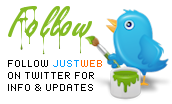 ---
29 visitors
are currently online at
just
web
®
---
SEO Menu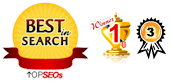 ---
SEO

(Search Engine Optimisation)
Statistics show us that
more than 80%
of traffic from search engines comes from organic results. Basically, unless you are on the first page of
Google
™, regardless if you have a PPC strategy, your website may not be performing to it's full potential. For experienced, proven
SEO Australia
results, contact us
today
about
website audits
, SEO, and how we can improve your organic search engine optimisation with proven results.
---
Copywriting

A
good copywriter
knows which words trigger the feelings that compel people to make decisions. They write with flair, making it easy for people to be drawn into what they are saying about your business, services or products. Read an an example of good copywriting for a fictitious Sydney
Mercedes Dealer
, or just "ok" website copy for a
Used Mercedes
dealer.
---
Trademarks

The most effective way to safeguard you against people "trading off" your business name, product or service, is to register a trademark. For more information, including about the
just
web
®
trade mark, please read our
trademark registration
article.
---
W3C Validated
:
XHTML
|
CSS
local business listings
search format. It had been tested in the wild previously, but now it has been rolled out across the board. Further, there are several iterations of the new local search results.
Personally, I think the
Google local
search results should be provided as an option, not as the default. For example, after a Google.com.au search at the moment your options are "the Web and "Pages from Australia". I think the "Local Search" should also be an option. But that's just me.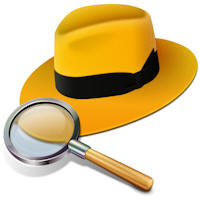 Anyway, the new Google search engine results pages format will have a dramatic impact on both SEO and SEM (search engine optimisation and search engine marketing), as well as making local business listings even more important, but before we go further into that, let's examine the visual changes.
Up until recently, the block of map results - often referred to as the "pack of seven" due to the fact it showed seven results - appeared next to a local map, usually up near the top of a results page, if at all. The normal organic results would appear at the top and/or bottom of the map results.
Sponsored links (AdWords or SEM) would appear at the top in a block with a maximum of three ads with a yellow or pink background, and/or in the right column in a "tower" block.
Now, after the new local search, when you input a search query, you are likely to get one of several result types, but you will no longer see the old style "seven pack":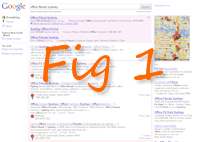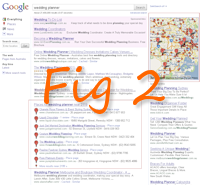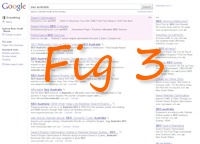 1) You may see local map listings scattered throughout the page
, with a local map on top of the right hand tower ad column, which "floats" as you scroll. This will impact upon the sponsored links by pushing them down about 200 pixels. As well as that, the ads will be obscured while the "floats" map is over them when the user scrolls
[Fig 1]
2) You may see a "normal" organic listing page, with a seven pack of map results
somewhere near the middle of the page, but with the map still floating in the right hand column. This new seven pack will in most cases know your geographical location at the time, and display as a heading "Places for [your search query] near [your postal code]"
[Fig 2]
3) You may simply see the normal organic results
with ads at the top and side, and no local listings, or map results at all
[Fig 3]
There are a number of reasons Google has done this:
1) Whether by design or by accident, it should see their
ad revenue increase
. Why? Quite simply because now the right hand sponsored links (ads) are lower down the page (by about 200 pixels), competition for the top three results (in the pink or yellow background) will become far more fierce - and expensive.
2) To try and
combat spam, and shonky or black hat search engine optimisers
from getting their clients a top position by means which do not comply with Google's guidelines, and which is often not really what a user is looking for. A Google local map listing requires authentication, thus they think this will help to stem the tide of optimised sites getting top results - thus providing more accurate search results.
3) To
become a more localised search engine
- show you results for your local area. I disagree with this, because there are many reasons why I may want to seek services outside my area, and just because a map result appears at #1, it does not mean that it is at all worthy of my attention. I've found many examples where the map results are more spammy, or less valid, than the previous organic listings.
As for the SERPs (
search engine results pages
) themselves, I've seen both positive and negative impacts for my clients. But what it does mean, is that if (in a lot of cases) you don't have a map listing, traffic to your site may drop - in some cases significantly.
One of my clients was about #8 on page one of Google for one of their main keyword phrases, but now, with a map listing, they are #2.
However, the reverse is true for another client - they were #1 in the world for their TOP keyword phrase, but are now relegated to position #8 - simply because of the map results that appear before them. And many of them are nowhere near as good at what they do as my client is.
Time will reveal more about the new direction Google is taking, but as for now, I'm not a fan of the new local search paradigm. I much preferred the old "seven pack".
Has this article been helpful or interesting?
Why not share it with others? Simply place your mouse over the buttons below to select from a range of social media websites, and thanks for sharing.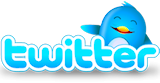 ---

11.11.2010