flat panel TV
, I guess you've considered at some stage whether to buy a LCD, LCD/LED, or
Plasma television
. Then of course there is now a further decision to make - 3D or not 3D.
For me, the 3D decision was easy - with prices now lower than ever, of course I went 3D. It is truly spectacular - and even the 2D to 3D conversion looks great, in particular when the image is from a high definition source, such as a Blu-ray player at 1080p.
Anyway, back to the panel type. I have to say first off I'm not a fan of plasma television technology. But guess what - I bought one recently. I looked VERY carefully at all the TVs that were available, and I have to say my final decision came down to picture quality (including how it processes 3D), price and size. The price is definitely an issue because even with all the technology in these TVs, they will be outdated next year.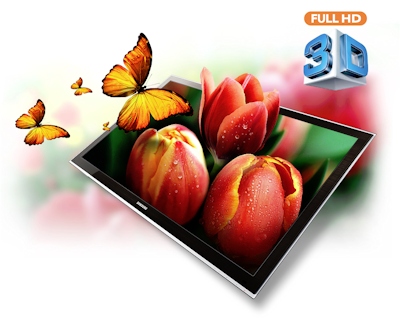 After doing a LOT of research, I visited a local retailer with the intention of checking out the 46" and 55" LCD/LED, and 50" Plasma televisions from Panasonic, Samsung, and Sony.
I then saw the
58inch Samsung PS58C7000 plasma
. WOW! It was playing a 3D Panasonic demo Blu-ray disc at the time, and it was SPECTACULAR! I was sold, and here is why I chose that TV.
A 58" TV is the perfect size for a big screen experience, without overwhelming an average lounge room. You also need a larger TV to really enjoy 3D at its best. I suggest a 50" (or so) would be the minimum size required for most lounge rooms. I must point out that the difference between the 50 inch and 58 inch plasma was VERY noticeable, and certainly worth the extra few hundred dollars for the bigger of the two.
The 3D engine is very smooth, with no real issues that I could see in the store, or since I've had the unit at home. It came with a Samsung promotion bonus of a 3D Blu-ray player, 2 extra 3D glasses, and a copy of the 3D movie, Monsters v Aliens. That promo is over now, but they have a new one in place (as at the time of publishing) - but don't expect a Samsung bonus to arrive in a hurry - they seem to be VERY slow! Some people are STILL waiting from buying their TVs months ago.
So, not having a 3D player handy at the time, the first thing I watched on my new TV was Avatar on Blu-ray, in 2d to 3D conversion. It adds new depth to the movie itself, as well as bringing the characters to life - not as good as "real" 3D, but way better than normal 2D. Next to be screened was the awesome P!nk Funhouse Tour in Blu-ray - again in 2D to 3D conversion. It wasn't quite as good as Avatar (3D effects wise), but that's simply because of the content. I still watched it all in that mode, and enjoyed it thoroughly.
The standard 2D picture quality is amazingly sharp too, especially from a 1080p source, or HD television signal (1080i).
Audio on these TVs isn't that important, because most people connect them to a home theatre system. But the audio output through the speakers on this TV surprised me - certainly very adequate for watching normal TV.
Then there are all the technical features of the TV such as multiple HDMI inputs, as well as older technology inputs and even a PC input (D-Sub), Internet connection (via Ethernet or USB dongle), Samsung "widgets" (news, weather, Facebook, Twitter, History Channel, etc. etc.), PVR function through USB (personal video recorder), DLNA (
Digital Living Network Alliance
), a fantastic and easy to use GUI (graphical user interface), and the classiest looking TV remote control I think I've ever seen.
As for aesthetics, Samsung sure know what they are doing. In my opinion, their TVs, both Plasma and LCD/LED TVs, are the best looking TVs on the market. And how thin is this TV! A plasma television with all this technology that is just a little over one inch thick! Remember plasmas only a couple of years ago? They were as thick as a brick - so to speak!
There are a many more positives, but here are the only negatives I can think of.
If you use a home theatre PC (HTPC) which uses an infrared receiver, you'll be annoyed. Plasmas pump out LOTS of infrared signals, which are not harmful to humans - or as far as I know they're not.
There are four possible three fixes for this:
1. Buy an expensive (about $300) unit which stops (in most cases) the TV interfering with the infrared receiver.
2. Move the infrared receiver away from the TV - the closer it is to the TV, the bigger the problem. I chose this "fix" - but even at 3 metres, the TV still affects the IR receiver.
3. Don't buy a plasma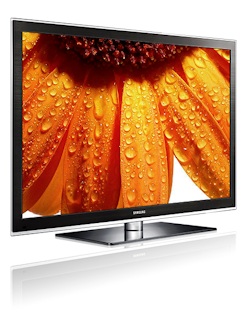 Another negative is that old chestnut, power consumption. The 58 inch plasma uses about double the power of the 55 inch LCD/LED. But over the course of a year, this does not amount to much extra, depending of course on how much you use the TV. However, consider that the 55" LCD/LED is about 80% more expensive than the bigger 58" plasma.
Just be mindful however that if you run a home theatre receiver, a plasma TV, and perhaps a home theatre PC all at once, you could well be using over 1000 watts per hour!
The only other negative, and to be honest, I'm not sure this is a negative - yet - is that plasma TVs have a HUGE RFI (radio frequency interference) field. You can test this by using an AM radio, and even at 15 metres away, it still picks up the "hum" from the plasma. I certainly wouldn't be sitting right up close to the TV when watching it - who knows how big its EM field is.
Also, don't worry about image retention. The Samsung comes with a built-in "washer" to remove any images which may be retained, BUT the chances of that being an issue with normal use are slim.
As for heat output, this huge TV runs cooler than my 32" LCD TV. I find it quite amazing considering plasmas not that long ago could be used to heat small rooms on a winter's day!
Finally, if your room is bright, you probably won't like a plasma. Even this model which has an anti-glare filter, reflects the weakest of light on the screen. But darkening a room is a small price to pay for no ghosting, sharp image quality, and great 3D.
In conclusion, if you are looking for an inexpensive, high quality, feature packed big screen 3D TV, you can't go past the Samsung PS58C7000. I picked mine up for a mere $1950 in October, and that included the Samsung bonus (valued at about $800), as well as a store bonus of two extra 3D glasses (plus the ones that comes with the TV) valued at about $250. I also purchased a pair of rechargeable 3D glasses for an extra $90 (retail $149). They recharge either through one of the two USB ports on the TV, or your computer/laptop.
If you plan on shopping for the best price, the trick with haggling is to go in with a set price in mind, and show the sales person you are ready to buy, but also willing to walk straight out if you are not happy. Just make sure you go in armed with a lot of research first.
Further reading
---
Samsung PS58C7000 3D Plasma TV

Review
By

Rob Arn

,

Senior Contributor

at

JustWeb
Rating: out of 5.
An awesome TV. Really good 3D, but simply superb 2D. For size, price, quality and features, don't overlook this Samsung offering.
---
Has this article been helpful or interesting?
Why not share it with others? Simply place your mouse over the buttons below to select from a range of social media websites, and thanks for sharing.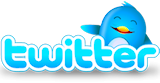 ---

11.11.2010