Marantz SR6005
home theatre receiver. They've taken their brilliant SR6004 AVR, and updated it to handle the very latest in 3D video, ARC (Audio Return Channel), and more inputs.
Thankfully, they have wisely chosen to retain the beautiful clean lines of the SR6004, hiding on-board controls behind a drop down panel.
Just before I get into more detail, if you are looking to purchase one of these AVRs,
a word of warning
. If you buy from a parallel importer, or grey importer, you may not be covered by an Australian Marantz warranty. In fact, the Australian distributor for Marantz tells me that their authorised repair centres won't repair them even if you PAY them - so if you think you are saving a couple hundred bucks, the end result may be VERY different. If in doubt, call
03 8542 1111
and check the bona fides of a seller.
The Marantz SR6005, big brother to the
SR5005
, and little brother to the
SR7005
, is a
7.1 Audio Video Receiver
which uses seven (7) discrete amplifiers that develop 110 continuous watts each - more than enough power to produce, lovely undistorted sound from even the most demanding of audio loudspeakers.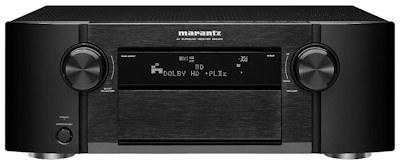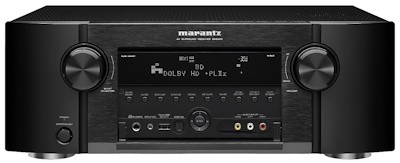 A nifty feature of the SR6005 is that you can
adjust individual inputs
so that volume doesn't jump or decrease when you select a different input source. So not only is this home theatre receiver powerful, but it has a whole lot of other great features, such as the ability to limit the ultimate playing volume to protect both your ears, your neighbours, and your valuable speakers. You are also able to specify a turn-on volume, and adjust the mute level to best suit your preferences. Zone 1, or the Main Zone, can be set independently of Zone 2.
The Marantz SR6005 is up to date with modern forms of media too. You can connect your iPod, iPhone, USB Hard Drive and Bluetooth device to it through the front panel USB port. If you are an iPad owner, you will probably want to look into the optional RX101 Bluetooth receiver and M-XPort for easy, wireless access to your favourite music.
M-DAX & Compressed Audio
Digital audio files like MP3s are compressed, so you'll be pleased to know that the SR6005 comes with M-DAX processing. M-DAX restores high frequency content which can be lost in the compression process with digital music files. There is a 3-position selector which lets you choose the right amount of processing to restore the "lost bits", but without adding distracting edginess.
HDMI 1.4a for 3D and ARC
The SR6005's comes with six (6) HDMI 1.4a inputs which will enable you to use it in the most advanced home theatre system without having to scratch around looking for more inputs. And, with ARC (Audio Return Channel), you don't need a separate TV-to-receiver connection audio cable to enjoy sound from a game console or streaming video source. Pass Through in standby mode, makes it simple to engage the audio system in the display for those times when you do not wish to engage the all the loudspeakers.
Surround Sound with Dolby Pro Logic IIx and More
Along with the awesome video capabilities of the SR6005, there is a wide range of audio modes, including Dolby Pro Logic IIz, three Pro Logic IIx settings (movie, music, and games), and complementary DTS modes such as Neo:6 (cinema and music).
Also included is DTS Neural Surround and Dolby Virtual Speaker, both perfect for listening to two channel audio signals, but with the envelopment you've come to expect from surround sound sources.
To top it all off, SR6005 brings uses Audyssey's MultEQ which analyses your room's acoustic properties and makes the appropriate corrections. Marantz say that with MultEQ, you'll always hear just what the artists and producers intended.
Upconverting Video Processing
You can upscale composite and component-based legacy video sources such as videotapes to HDMI for display on your high definition TV. If a non-HD source connects through HDMI, the SR6005 automatically scales that to the maximum resolution your screen can display. And, my personal favourite, the SR6005's is equipped with advanced
Anchor Bay video processing
. From my research, this is somewhat better than
Faroudja Video
processing found in other home theatre receivers, at least on paper.
With the video settings, you can adjust parameters such as colour, hue, noise reduction, and detail enhancement independently for each input and then lock these settings into the on-board memory.
OSD
The new SR6005's OSD (on-screen display) graphical user interface (GUI) now goes through HDMI for a nice, vibrant and colourful display on your main system screen. Plus, a new feature allows you to actually move where the volume indicator sits on the screen so it doesn't interfere with what you are watching. That's a nice detail.
Dual Zone Capability
With this AVR you get two zones, but Marantz go a little further by giving you the option of renaming the 2nd zone. Plus, you're not forced to listen to the same source as is playing in the Main Zone - you can watch a movie in Zone 1, whilst playing a relaxing CD in Zone 2. That's pretty cool eh?
Dual Subwoofer Outputs
Now, onto one of my favourite subjects: the subwoofer section. I might just have to get another
Velodyne SPL1200
because the SR6005 has dual sub outputs. Nice. Now not only will my roof tiles rattle, I'll give the neighbours a shake too :-)
Speaking of outputs, Marantz provide nine full speaker posts, which can be used with
banana plugs
(recommended) or speaker cable. The reason I mention this is that with some AVRs, for example the Denon AVR2311, if you want to swap between front height and rear surround, you have to physically change the speaker connections. With nine posts, you can have all the speakers connected, and simply change the speaker assignment in the GUI.
Adjustable Crossover for Every Loudspeaker
The ability to adjust the crossover frequency means that you can send bass to a subwoofer, and mid-/high-frequency info to your main speakers. This ability can be the difference between mediocre sound, and draw dropping amazing sound. Marantz have been generous and provide us with a choice of nine (9) frequencies to allow seamless sonic integration. In addition, you can fine tune each speaker's response to best fit its capabilities and your preferences.
Marantz SR6005 Summary
The new Marantz SR6005 A/V receiver combines versatility, exceptional video capability, and Marantz sound quality to create one of the most compelling home theater experiences available today. With HDMI 1.4a connections for up to six sources, and the ability to convert legacy video (from your VCR or camcorder) to HDMI, the SR6005 exceeds the needs of today's finest video displays. You'll also enjoy a whole host of simple-to-use, performance enhancing post-processing options. The combination of Marantz's dedication to easy operation together with audiophile-quality sound enables the SR6005 to extend your home entertainment experience well beyond conventional horizons.
I'm REALLY looking forward to giving this baby a run.
Marantz SR6005 Feature List (display list ∇)
Where to purchase
If you want a good price on an SR-5005, SR-6005, or SR-7005,
message me
and I'll see what I can do for you with my retailer.
Further reading
Has this article been helpful or interesting?
Why not share it with others? Simply place your mouse over the buttons below to select from a range of social media websites, and thanks for sharing.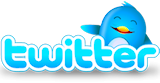 ---

15.11.2010