Yamaha AV Receiver
for about three years now. Prior to the Yamaha, I owned a Harman Kardon and a Pioneer. Now it's time to update again, so after reading many
AV Receiver Reviews
, I thought I'd offer my own opinion.
My choices have been narrowed down to the Onkyo TX-SR608, the
Marantz SR-6005
, the Denon AVR2311, and finally, the Yamaha RX-A2000.
You only need to look at the
Aventage RX-A2000
and it screams style and class, with a beautiful clean front panel. Most of the front controls and inputs/outputs are hidden behind a door in the panel which opens easily and smoothly.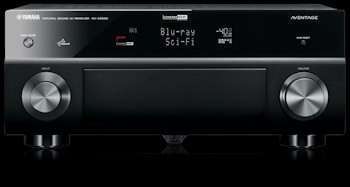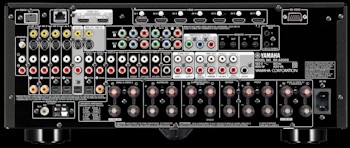 The Yamaha Aventage range caters to those who want a more up market look, feel and performance, but are still looking for value for money. Delivering a reported whopping
130 watts per channel
, I think the Yamaha Aventage RX-A2000 is one of the best value AV receivers available on the Australian market. Yamaha must employ a very efficient power system too because the RX-A2000 apparently uses only about 490 watts - so you won't need your own power station to run it.
Yamaha put a lot of faith in this model as well, supplying a
FOUR YEAR warranty
straight out of the box. In fact, all the
Aventage AV Receivers
carry the same four year warranty.
Looking underneath the RX-A2000, you'll see something a little different - a fifth leg. Yamaha claim this adds strength to the unit, helping to support the extra weight of the transformer, but also to cut down on vibration throughout the chassis. I think we'll have to take their word on that, but hey - if there's a chance it helps, then I'm all for it.
Speaking of the chassis, all the Aventage AV Receivers use a H cross-brace frame in their construction to strengthen the chassis, and provide further support for the power transformer and heat sink to minimise vibration, which Yamaha claims helps to prevent colouration of the sound. Again, we'll have to take their word for it. I have JBL speakers which have an extra tweeter which apparently make a big difference to the overall sonic quality of the speaker - but the human ear can't hear the range. I'll have to take JBL's word for that too ;-)
Anyway, always keeping up with innovation, Yamaha also supply lots of connectivity options, including an
iPod dock
. Yep, that's right - you don't have to buy it as an extra - it comes with one already, which, if you own an i-Anything, saves you about 170 bucks. And you'll also be pleased to know that you can actually control the AVR from your iPad, iPhone, Blackberry, or in fact any computer or laptop with a network and web browser. Now that's pretty cool - and practical.
Delving into the nitty gritty, the RX-A2000 uses
Burr Brown DACs
, which have been at the forefront of
Digital to Analogue Conversion
technology since 1956. All digital audio signals (CDs, iPod, DTS-HD, Dolby True-HD, etc) need to be converted from their original digital format to an analogue format that can be amplified through to the speakers. The Burr-Brown DACs used in the RX-A2000 are superior to the baby of the Aventage range, the RX-A1000, and this results in superior audio performance.
Sometimes you can get a phenomenon call "jitter" over a HMDMI connection, which adds colouration to an audio signal. To help reduce this colouration the RX-A2000 uses ultra low jitter phase locked loop (PLL) circuitry. The PLL circuitry helps synchronise the audio path between the source (Blu-ray player) and the receiver to minimise interference and ensure accurate reproduction of the original material.
My current Yamaha has front presence speakers, and the Aventage does as well - but they work a whole lot differently. The new RX-A2000 allows the operator to use Yamaha's well respected
3D CINEMA DSP technology
. 3D DSP adds height and depth to the front sound stage, with the effect of making a small theatre room feel like a large concert hall.
Reading the above, as well as the specs below, you might be thinking "this thing will take a year and three degrees in engineering to set up."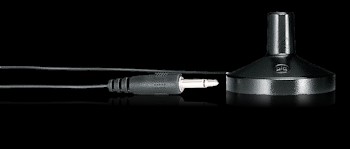 Not so. Yamaha's YPAO technology is designed to
automatically calibrate your home theatre setup
according to the room's audio characteristics. Like its smaller brother, the RX-A1000, the RX-A2000 takes a number of things into consideration including multiple listening positions, speaker size and distance. But the RX-A2000 is even more advanced by also taking into account reflected audio. Sound reacts differently when it hits different surfaces, such as hard surfaces like glass, concrete, floor boards, etc., which reflects audio, whilst soft surfaces like curtains, carpet, couches, etc., will dampen audio signals, resulting in minimal reflection from these surfaces. Yamaha's RX-A2000 measures the audio reflection of a room and takes this into account to ensure that the home theatre system is optimised for each specific environment.
The RX-A2000 from Yamaha sells for about $2000, or a little less with some careful bargaining. In my book, its well worth the investment, or at the very least, a visit to your local audio specialist store to have a listen for yourself.
Footnote:
I was considering a
Marantz SR-6005
, or the Aventage RX-A2000. I decided against the Marantz (Denon??), and settled on the RX-A2000. Unfortunately they're that popular, there were none in stock. Not wanting to waste the day, I took an
Aventage RX-A3000
instead. I'm so happy I did. More soon.
Aventage RX-A2000 Specifications (display specs ∇)
---
Yamaha AV Receiver RX-A2000

Review
By

Rob Arnell

,

Senior Contributor

at

JustWeb
Rating: out of 5.
The RX-A2000 is very similar to the 3000 version, with just a little less power, and a couple less bells and whistles. If you want to save some bucks, and still have a good AVR, this is the one.
---
Further reading
Has this article been helpful or interesting?
Why not share it with others? Simply place your mouse over the buttons below to select from a range of social media websites, and thanks for sharing.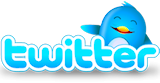 ---

25.11.2010