Cheap SEO may not necessarily be the cheapest price. If SEO doesn't perform, it doesn't matter HOW cheap it is!
SEO Tools - Google™ PageRank Checker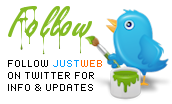 ---
57 visitors
are currently online at
just
web
®
---

---
SEO

(Search Engine Optimisation)
Statistics show us that
more than 80%
of traffic from search engines comes from organic results. Basically, unless you are on the first page of
Google
™, regardless if you have a PPC strategy, your website may not be performing to it's full potential. For experienced, proven
SEO Australia
results, contact us
today
about
website audits
, SEO, and how we can improve your organic search engine optimisation with proven results.
---
Copywriting

A
good copywriter
knows which words trigger the feelings that compel people to make decisions. They write with flair, making it easy for people to be drawn into what they are saying about your business, services or products. Read an an example of good copywriting for a fictitious Sydney
Mercedes Dealer
, or just "ok" website copy for a
Used Mercedes
dealer.
---
Trademarks

The most effective way to safeguard you against people "trading off" your business name, product or service, is to register a trademark. For more information, including about the
just
web
®
trade mark, please read our
trademark registration
article.
---
W3C Validated
:
XHTML
|
CSS
cheap SEO
in Sydney, Australia, it depends on what you mean by "cheap". If you mean value for money, and a measurable improvement in your Google rankings, then yes, I suppose you could call
just
web
®
"cheap".
By the way, if you are talking about where your page ranks in Google, that may not be neccesarily be its "PageRank".
PageRank (or PR) is a numeric value that represents how important a page is on the web. Google figures that when one page links to another page, it is in essence voting for the other page. The more votes that are cast for a page, the more important the page must be.
It is also important to note that the ranking of the page linking to you determines how important the vote itself is (eg, a link from a PR6 site to your website is better than a PR2 link). Google calculates a page's importance from the votes cast for it. How important each vote is is taken into account when a page's PageRank is calculated.
PageRank matters because it is one of the factors that determine a page's ranking in the search results. It isn't the only factor that Google uses to rank pages, but it is an important one. PageRank is quite commonly referred to as "PR", as in PR6.
It is important to note that not all incoming links are taken into account by Google. Link farms are ignored for example. You should also be very careful about the sites you link to - Google can "penalise" you if you link to a penalised site. It is unwise to link to too many PR0 sites as that ranking may indicate a penalty has been imposed, unless of course the site is only new.
Now, when someone says "how does your site rank", they are usually referring to the SERPs - search engine results pages - not their PageRank.
You can help yourself rank well in Google by following their guidelines, ie, ensure your website is search engine friendly (construction wise), and you are consistent in how their you approach each page's SEO.
When looking for the right search engine optimiser, make sure you ask a lot of questions, and they come across as being not only knowledgeable, but personable. Don't be afraid to ask them about results they have achieved for themselves of their clients, and don't be fooled by "empty" results. By empty, I mean search phrases which are unlikely to attract too many searches. For example, "public relations dr pr chatswood", as opposed to "public relations company".
To make an enquiry about SEO for your website, please call or
complete this form
for more information.
Read more information about SEO in Australia: