Web site design business based in Sydney, Australia - we develop simple, economical and functional web sites with easy navigation and effective seo.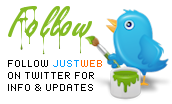 ---
78 visitors
are currently online at
just
web
®
---

---
SEO

(Search Engine Optimisation)
Statistics show us that
more than 80%
of traffic from search engines comes from organic results. Basically, unless you are on the first page of
Google
™, regardless if you have a PPC strategy, your website may not be performing to it's full potential. For experienced, proven
SEO Australia
results, contact us
today
about
website audits
, SEO, and how we can improve your organic search engine optimisation with proven results.
---
Copywriting

A
good copywriter
knows which words trigger the feelings that compel people to make decisions. They write with flair, making it easy for people to be drawn into what they are saying about your business, services or products. Read an an example of good copywriting for a fictitious Sydney
Mercedes Dealer
, or just "ok" website copy for a
Used Mercedes
dealer.
---
Trademarks

The most effective way to safeguard you against people "trading off" your business name, product or service, is to register a trademark. For more information, including about the
just
web
®
trade mark, please read our
trademark registration
article.
---
W3C Validated
:
XHTML
|
CSS
The web safe colour palette consists of 216 colour values which was developed when many computer displays were only capable of displaying 256 colours. The requirement was a set of colours that could be shown without dithering on 256-color displays. 216 was chosen partly because computer operating systems customarily reserved sixteen to twenty colours for their own use, and partly because it allows exactly six shades each of red, green, and blue (6 × 6 × 6 = 216).
The list of colours is often presented as if it has special properties that render them immune to dithering. In fact, on 256-color displays applications can set a palette of any selection of colours that they choose, dithering the rest. These colours were chosen specifically because they matched the palettes selected by the then leading browser applications. Fortunately, there were not radically different palettes in use in different popular browsers.
By the early years of the 21st century, driven by the needs of video games and digital photos, personal computers typically had at least 16-bit colour and usually 24-bit (true colour). Even mobile devices had at least 16-bit colour, driven by the inclusion of cameras on mobile (or cell) phones. The use of "web-safe" colours fell into disuse, but persisted as folklore.
The "web-safe" colours do not have names, but each can be specified by an RGB triplet (eg, #000000 is black - 00 + 00 + 00). The Cascading Style Sheets language supports both 3 and 6 six-digit numbers. The digit "3" is equivalent to the hexadecimal numeral "33"; "C" is equivalent to "CC". For example, "F93" is equivalent to "#FF9933".
The table below contains 216 "web safe" colours. Click on any of the colours below to view its Hexadecimal value. Alternatively, you can enter a hexadecimal value manually, and view its colour equivalent.