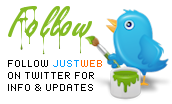 ---
51 visitors
are currently online at
just
web
®
---

---
SEO

(Search Engine Optimisation)
Statistics show us that
more than 80%
of traffic from search engines comes from organic results. Basically, unless you are on the first page of
Google
™, regardless if you have a PPC strategy, your website may not be performing to it's full potential. For experienced, proven
SEO Australia
results, contact us
today
about
website audits
, SEO, and how we can improve your organic search engine optimisation with proven results.
---
Copywriting

A
good copywriter
knows which words trigger the feelings that compel people to make decisions. They write with flair, making it easy for people to be drawn into what they are saying about your business, services or products. Read an an example of good copywriting for a fictitious Sydney
Mercedes Dealer
, or just "ok" website copy for a
Used Mercedes
dealer.
---
Trademarks

The most effective way to safeguard you against people "trading off" your business name, product or service, is to register a trademark. For more information, including about the
just
web
®
trade mark, please read our
trademark registration
article.
---
W3C Validated
:
XHTML
|
CSS
Please note:
We do no do desktop support. If you require help setting up your computer (for mail or anything else) please contact your I.T. support company.
Firstly, it is a
MUST
to setup your email account that works using your own your domain. For example,
info@justweb.com.au
, rather than
justweb@bigpond.com
, or even worse,
justweb@hotmail.com
. Just as important is making sure you have at least ONE email box setup, rather than a simple forward. It's all about looking more professional and branding your own business, as well as working more efficiently. All email accounts setup on the QuadraHosting servers are accessible via webmail as well, so you are able to use it just like you would Hotmail or Yahoo Mail.
FAQs
What is an email box?
An email box is where you have a mailserver address, a login and password an access email via a POP3 (receiving) account. The sending server, which is usually your ISP (eg, BigPond, Optusnet, TPG etc) is referred to as the SMTP server.
What is an email forward?
A forward is where you have an email address setup on your account, and that gets delivered to one or more alternative addresses. For example,
someone@justweb.com.au
gets delivered to
someone@bigpond.com
, or s
omeone@hotmail.com
etc.
What is an email alias?
An alias is where you have an email box setup, and you have multiple addresses assigned to that box. For example, an email box maybe
someone@justweb.com.au
, but
someone-else@justweb.com.au
and
another@justweb.com.au
all get delivered to that box.
How do I set my email account up?
As mentioned above, we recommend you use email boxes and not "forwards" as your main email contact. This means you have to log into your email account on your web host's server. On Quadra Hosting, the following information gives you an overview for your email box and webmail setup - all you need is your user account name and password (already supplied).
Email Box
Mailserver (POP3): mail.
YOUR-DOMAIN
Mailserver (SMTP): your ISP's SMTP information
Login: your-username@
YOUR-DOMAIN
Password: as supplied
Webmail
Address: http://mail.
YOUR-DOMAIN
Login: your-username@
YOUR-DOMAIN
Password: as supplied
PLEASE NOTE
: "YOUR-DOMAIN" does not include "www" or "http://"- eg,
justweb.com.au
, not
www.justweb.com.au
or
http://www.justweb.com.au
.
Your computer setup
We do not do helpdesk support, however there are many simple tutorials available by doing a Google search (see the Google search at the bottom of this page) for your particular email software. For example: "outlook express email account setup", "eudora email account setup", or "thunderbird email account setup" etc. etc. There are many email clients being used, which is why we don't offer support for setup.
In a nutshell, it is quite simple - go to tools, accounts, select to create a new account, enter the info above and supplied, and make sure anything else is setup correctly - eg, your "reply to" email address, company name, etc etc.
Further setup email information may be found in Quadra Hosting's
email support area
.