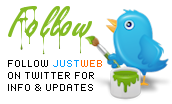 ---
53 visitors
are currently online at
just
web
®
---

---
SEO

(Search Engine Optimisation)
Statistics show us that
more than 80%
of traffic from search engines comes from organic results. Basically, unless you are on the first page of
Google
™, regardless if you have a PPC strategy, your website may not be performing to it's full potential. For experienced, proven
SEO Australia
results, contact us
today
about
website audits
, SEO, and how we can improve your organic search engine optimisation with proven results.
---
Copywriting

A
good copywriter
knows which words trigger the feelings that compel people to make decisions. They write with flair, making it easy for people to be drawn into what they are saying about your business, services or products. Read an an example of good copywriting for a fictitious Sydney
Mercedes Dealer
, or just "ok" website copy for a
Used Mercedes
dealer.
---
Trademarks

The most effective way to safeguard you against people "trading off" your business name, product or service, is to register a trademark. For more information, including about the
just
web
®
trade mark, please read our
trademark registration
article.
---
W3C Validated
:
XHTML
|
CSS
GoPro WiFi BacPac
and Remote Control combo kit is now available in Australia.
Unfortunately, what isn't available as yet, is the
GoPro App
to install on your smart phone, tablet or iPod. That apparently won't be available until sometime in Fall 2012... around late Spring or early Summer in Australia.
That said, it is still a very useful bit of gear, able to control up to 50 (yes, FIFTY)
GoPro HD HERO2 cameras
. Of course, each camera requires its own WiFi BacPac which you can buy separately.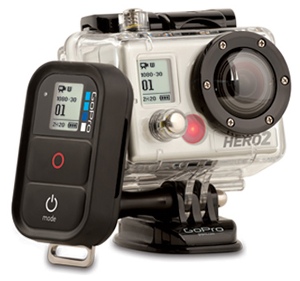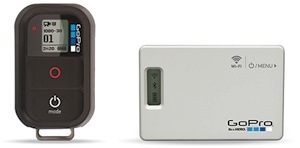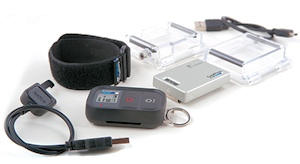 As with all GoPro products, it comes with all you need...
GoPro Remote Control:
Wi-Fi remote control which has its own built in rechargeable Li-ion Battery
Remote charging cable with a snazzy little clip lock
Remote Attachment Key which snaps in the same way as the cable
Velcro attachment strap complete with GoPro branding tag


GoPro Wi-Fi BacPac:
The WiFi unit itself with menu screen
Waterproof Backdoor
Non-waterproof Backdoor
30cm USB Charging Cable
Instruction manual
To use the Wi-Fi BacPac and remote control, you will need to download and install CineForm. Its a 35 megabyte download which I find a bit over the top. The program allows you to edit and convert video, as well as update firmware. But if you have your own edit suite, its a big footprint for just keeping your firmware up to date!
Anyway, both units (WiFi Bacpac and remote) come with some charge out of the box, but its a good idea to charge them both up first.
You install the program (CineForm), then use the two supplied USB cables to hook the two units up to your computer. CineForm will automatically detect their presence.
IMPORTANT:
Reboot your computer after software installation otherwise your devices may not be detected.
You will also need to update the firmware on your GoPro camera.
The next step is to pair the WiFi BacPac with the remote control. This took a bit of doing because CineForm repeatedly said the firmware was up to date, but eventually we got there and the two paired up instantly.
So, to summarise the setup:
Install CineForm
Update firmware on the camera, remote control, and BacPac
Follow the instructions to pair the devices
The remote works really well, with user settings displaying in the small LCD screen. Once the App arrives, you will be able to stream video to your mobile device, or even the Internet directly.
And lets not forget that it can control up to fifty individual cameras. This will be great for those long stretches of boring road, for example, when you want to turn off the camera to conserve power. Because, let's face it, 2 hours use out of a camera is ridiculous and inconvenient - but the norm - for the moment.
Tips
Reboot computer after installing CineForm
Update firmware on the camera, remote control, and BacPac before first use (GoPro Hero2 update)
After charging remote control unit, make sure it is turned off - charging seems to turn the unit on
The WiFi BacPac has its own battery, but it will start to drain power from the camera's battery after its own is depleted, so ensure all units are fully charged before use
The body of the WiFi unit itself is smaller than the LCD BacPac and the Battery BacPac, so it is recommended that you to use the supplied (thinner) back door
Features summary
Wi-Fi Remote:
Control up to 50 cameras a time, with a 600' or 180m range
Full camera control: On/Off, Mode, Shutter, and Settings
Attachment strap, key ring, and charging cable included
Wearable & Waterproof to 10' or 3m
GoPro App + Smartphone or Tablet (Coming Soon)
Control your GoPro(s) with your smartphone or tablet
Live preview & playback of videos & photos from your GoPro(s)
Wi-Fi transfer* footage from your GoPro to your smartphone or tablet and share with friends
Live stream your smartphone as a hotspot
Live Streaming + Sharing Directly from Your GoPro, as mentioned previously, will be coming "soon".
Where to buy the GoPro WiFi BacPac Combo Kit
Sports Camera
P.O. Box 275
Richmond NSW 2753
Phone: (02) 45742797
Web:
www.sportscamera.com.au

Filmed with a GoPro HD Hero2 &
CamPole
by SportsCamera.com.au
Music by Black Label Australia - "Crystal Vision"
Has this article been helpful or interesting?
Why not share it with others? Simply place your mouse over the buttons below to select from a range of social media websites, and thanks for sharing.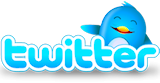 ---

06.09.2012