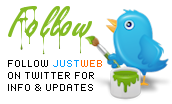 ---
88 visitors
are currently online at
just
web
®
---

---
SEO

(Search Engine Optimisation)
Statistics show us that
more than 80%
of traffic from search engines comes from organic results. Basically, unless you are on the first page of
Google
™, regardless if you have a PPC strategy, your website may not be performing to it's full potential. For experienced, proven
SEO Australia
results, contact us
today
about
website audits
, SEO, and how we can improve your organic search engine optimisation with proven results.
---
Copywriting

A
good copywriter
knows which words trigger the feelings that compel people to make decisions. They write with flair, making it easy for people to be drawn into what they are saying about your business, services or products. Read an an example of good copywriting for a fictitious Sydney
Mercedes Dealer
, or just "ok" website copy for a
Used Mercedes
dealer.
---
Trademarks

The most effective way to safeguard you against people "trading off" your business name, product or service, is to register a trademark. For more information, including about the
just
web
®
trade mark, please read our
trademark registration
article.
---
W3C Validated
:
XHTML
|
CSS
Here are a few things I do to ensure my computers run smoothly, are kept free of junk, are secure, and finally, backed up.
Empty your recycle bin
If you don't empty your recycle bin on a regular basis, you are using up hard drive space unnecessarily. Also be aware that when you empty your recycle bin, it doesn't mean that data is gone forever. It simply means it is not visible without the right tools, and is still recoverable from the hard drive surface.
Make regular backups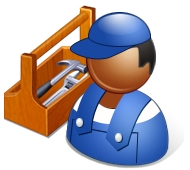 Backup important files on a daily basis using backup software. Accounts, mail, browser settings, etc.
On a less regular basis, perhaps weekly, use
Acronis True Image
to make "disc images". This is an inexpensive and easy to use program that enables you to take a complete "snapshot" of your hard drive (or drives), and recover them back to exactly the way they were before a disaster. The software lets you make an emergency recovery disc, which is basically a simple operating system you can boot from, allowing you to reinstate your backed up disc image.
Please note: of course you should back up the image to an external source, such as a remote hard drive.
Example scenario: Your hard disc decides to die, is unable to be accessed, and your computer won't boot up. Simply buy a new hard drive, install it, format it, boot into your Acronis recovery disc, select the backed up disc image, and the software does the rest. You are then able to boot back into your computer as if nothing ever happened. You would then apply your daily backups to update your files. After a couple of hours and a $100 hard drive and you're back in business.
I was going to say, if you have a large company, it would be prudent to store a backup of your system off site, however I guess this would be true for anyone. You have to consider theft and fire to start with as potential "backup up neutralisers" - in other words, no point having a backup system in place if it can be stolen with the rest of your system, or potentially burnt if a fire occurs.
Defrag
You should perform a defragmentation routine of all your drives on a regular basis. Because of the way your computer stores it's files (in sectors), you will find that over time large files get split up and spread over the surface of the drive. This increases the time it takes to "seek" files, and slows things down. Defragging simply moves all the files closer together. I do this every couple of months, but it depends on how much you use your computer and what you use it for.
Registry Cleaners
Don't use them! The risk versus benefit is not worth it. Only my opinion of course. :)
If you need help with any of the above, simply use our good friend Google to search for answers. As always, please do your own research before following any advice given.
---
If you require advice or further information about securing your data, please use the search box below, or check with an I.T. consultant.
Has this article been helpful or interesting?
Why not share it with others? Simply place your mouse over the buttons below to select from a range of social media websites, and thanks for sharing.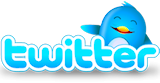 ---

28.06.2008