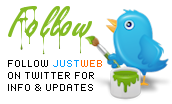 ---
97 visitors
are currently online at
just
web
®
---

---
SEO

(Search Engine Optimisation)
Statistics show us that
more than 80%
of traffic from search engines comes from organic results. Basically, unless you are on the first page of
Google
™, regardless if you have a PPC strategy, your website may not be performing to it's full potential. For experienced, proven
SEO Australia
results, contact us
today
about
website audits
, SEO, and how we can improve your organic search engine optimisation with proven results.
---
Copywriting

A
good copywriter
knows which words trigger the feelings that compel people to make decisions. They write with flair, making it easy for people to be drawn into what they are saying about your business, services or products. Read an an example of good copywriting for a fictitious Sydney
Mercedes Dealer
, or just "ok" website copy for a
Used Mercedes
dealer.
---
Trademarks

The most effective way to safeguard you against people "trading off" your business name, product or service, is to register a trademark. For more information, including about the
just
web
®
trade mark, please read our
trademark registration
article.
---
W3C Validated
:
XHTML
|
CSS
Here is a prime example as to why you should
NEVER
relinquish control over an old company owned domain name.
Why keep the old domain name?
For many years the Chiropractors Association of Australia website address was caa.com.au. The first recorded iteration of their website at this address was in 1996.
Late in 2005 it seems they gave up ownership of that domain address, and some time in April 2006 it was taken over by a car auction company in Adelaide.
For a start, it's not a very good address as far as keyphrases go - "caa" means nothing. "carauctionadelaide.com.au" would have been better. But what they did do was inherit some very good things, compliments of the Chiropractors Association.
What does age have to do with it?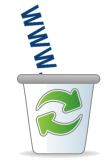 One of the important factors Google looks at in a website is the maturity of the domain name. The older the site, the more respect Google has for it. If the Chiropractors Association still owned caa.com.au, as of 2009 it would be at least 13 years old.
This is borne out by the fact that even today, when you look up "chiropractor" in Google, caa.com.au still comes up on (or near) the first page of results - even though it hasn't had any chiropractic related information for about three years!
Why is this so?
Very simple. The Association was either given very bad advice or worse, didn't ask for any. If they had, they would have been told that many websites that are related to chiropractic
STILL LINK TO THE OLD WEBSITE
!!
What they SHOULD have done
The solution was very simple and would have taken about 5 minutes. They
SHOULD
have redirected caa.com.au to their new website. It's too late now - I'm sure the car auction website wants to keep the domain name.
Is it a one-way street?
No - there's more. The car auction website is at a disadvantage also - they have lots of incoming links that are totally irrelevant to cars and car auctions.
Why would the Association have given up the domain name?
I can't believe it was a financial decision - especially considering the downside - loss of all those great incoming links for the sake of a few dollars per year in renewal fees. I daresay they simply let it "slip through their fingers" - they forgot about it.
Always keep track of your domain name ownership records. Would you forget about the deed to your property, or house? No, so keep all your information up to date with the registrar, and if you have had an active site for at least several years, never let the domain name go - its much easier to keep it and the advantages can be HUGE!
If you require the services of an experienced search engine optimiser, please contact Rob at
just
web
®.
Has this article been helpful or interesting?
Why not share it with others? Simply place your mouse over the buttons below to select from a range of social media websites, and thanks for sharing.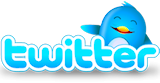 ---

13.02.2009