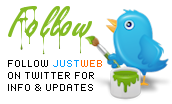 ---
34 visitors
are currently online at
just
web
®
---

---
SEO

(Search Engine Optimisation)
Statistics show us that
more than 80%
of traffic from search engines comes from organic results. Basically, unless you are on the first page of
Google
™, regardless if you have a PPC strategy, your website may not be performing to it's full potential. For experienced, proven
SEO Australia
results, contact us
today
about
website audits
, SEO, and how we can improve your organic search engine optimisation with proven results.
---
Copywriting

A
good copywriter
knows which words trigger the feelings that compel people to make decisions. They write with flair, making it easy for people to be drawn into what they are saying about your business, services or products. Read an an example of good copywriting for a fictitious Sydney
Mercedes Dealer
, or just "ok" website copy for a
Used Mercedes
dealer.
---
Trademarks

The most effective way to safeguard you against people "trading off" your business name, product or service, is to register a trademark. For more information, including about the
just
web
®
trade mark, please read our
trademark registration
article.
---
W3C Validated
:
XHTML
|
CSS

The perfect way to impress visitors to your website is to embed 360 degree virtual tour photography. The "ooomph" factor is amazing when you see all 360 degrees around the inside of a home, showroom, tourist attraction, or any other website where you need the amazing interactivity and visuals that a tour provides. Note that long ago virtual tours were cost prohibitive, however now an interactive virtual tour can cost as little as a $250 - depending on your location and the number of panoramas required.
Introducing GM Imaging Virtual Tour (VT)
The owner/operator GM Imaging is an ex-police officer with 24 years experience within the NSW Police Force and has had experience in
professional photography
since 1993 when he joined the Forensic Services Group. He began using VT software in 2000 to record crime scenes and played a major role in the implementation of the current 'Spheron' VT system now being used in the Forensic Services Group.
As the training officer, he developed and wrote the users manual and the Standard Operating Procedures (SOP) manual for the new system.
Equipment
To capture the high quality images required for the GM Imaging VT, certain specialist equipment is required. A 'Nodal Ninja' panoramic tripod head mounted on a Manfrotto tripod which allows the camera to rotate on an axis in the exact centre of the lens.
The camera body is a Canon EOS 20D SLR which uses a Sigma 8mm wide angle fisheye lens. This allows the operator to capture images directly above and below the camera. The Sigma lens has an enormous depth of field that will capture, in focus, any subject from 100mm away to infinity.
Although flash is not required with the fisheye lens, a fully professional Canon 580EXII flash is used for any still photography if required.
Virtual Tour Photography Images
All images captured are shot in 'raw' format and each image is 8MB in size. This is a format in which ALL information that falls onto the camera's sensor is captured. Whereas in Jpeg format it is only an average of what falls onto the sensor. This allows for manipulation of the images without loosing any quality whatsoever.
Each Panorama that is captured requires only 4 images shot at 90 degrees from each other. GM Imaging VT captures 7 images per quadrant of the panorama, where normally only one image is captured.
Each of the 7 images is captured at a different exposure, ranging from extremely over exposed to extremely under exposed. By using specialised software the 7 varying images are blended together.
The result is an image that has extremely even exposure throughout. This is ideal for capturing views from inside buildings and to still be able to see in the opposite direction down a hallway.
Enhancement
After the four blended images are stitched together creating the panorama, each panorama is enhanced in Adobe PhotoShop for any colour balance, contrast or colour saturation adjustments that may be needed. Any undesirable objects may also be removed from the panorama at this stage, if required. If requested, time exposed sunrise or sunset images can be captured. These need not be panoramas as the still image can be introduced into the VT as a pop up window.
Building the Virtual Tours
GM Imaging VT can build any size viewing screen as requested. The viewing screen can be totally plain or have boarders incorporated. Your company's logo can be placed in the viewer along with an email or URL link.
Multiple interactive floor plans can be placed permanently onto the viewer or can be placed into a pop up window giving the user control over what they view. These floor plans have radar hotspots indicating where each spherical is situated throughout the property.
When the radar hotspot is clicked the user will be taken to that location in the tour. The radar hotspots also show a field of view allowing the user to understand exactly what direction they are facing in the scene. Text can be added to inform the user what they are viewing.
There are several different means of navigating between spherical images: the interactive map as previously explained; a thumbnail scroll bar; a drop down menu or hotspots situated in the spherical its self. This of course is totally the client's choice.
Each tour may be viewed in full screen mode, simply by double clicking on the viewing screen. Normal viewing mode is achieved in the same way. Pop up photographs can be integrated in the tour and will appear when hotspots or control buttons are clicked.
The entire tour can have music (subject to copyright) whilst playing and each spherical can have an individual voice over relating to that particular scene.
GM Imaging Virtual Tours will begin to play automatically and move from one spherical to the next without touching a thing, or can be manually controlled by left clicking and dragging the mouse.
The tour can be edited into movie mode, whereby, each spherical can be programmed to move in pre-determined sequences, moving up, down, left, right and zooming in and out. This movie mode can also be manually over ridden simply by dragging the mouse. A control button can restart the movie from where it was over ridden.
Publishing
The tour can be published for broadband web display or on CD-Rom. CD publication is optional and is recommend for use in presentations, projectors, trade shows, High Definition screens etc. Each tour is powered by Adobe Flash.
Contact
For further information, please
contact us
.