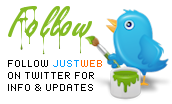 ---
149 visitors
are currently online at
just
web
®
---

---
SEO

(Search Engine Optimisation)
Statistics show us that
more than 80%
of traffic from search engines comes from organic results. Basically, unless you are on the first page of
Google
™, regardless if you have a PPC strategy, your website may not be performing to it's full potential. For experienced, proven
SEO Australia
results, contact us
today
about
website audits
, SEO, and how we can improve your organic search engine optimisation with proven results.
---
Copywriting

A
good copywriter
knows which words trigger the feelings that compel people to make decisions. They write with flair, making it easy for people to be drawn into what they are saying about your business, services or products. Read an an example of good copywriting for a fictitious Sydney
Mercedes Dealer
, or just "ok" website copy for a
Used Mercedes
dealer.
---
Trademarks

The most effective way to safeguard you against people "trading off" your business name, product or service, is to register a trademark. For more information, including about the
just
web
®
trade mark, please read our
trademark registration
article.
---
W3C Validated
:
XHTML
|
CSS
But, rather than it being a case of a big corporation throwing their weight around against a mere speck on the business horizon, this time it's the small organic food company Organic Marketing Australia Pty Ltd with their branding "
Honest to Goodness
", located in Artarmon, Sydney, versus the huge
Woolworths
company.
It seems that Woolworths are using the phrase "Honest to Goodness" to promote their new family meals, with
Margaret Fulton
as the face of the line.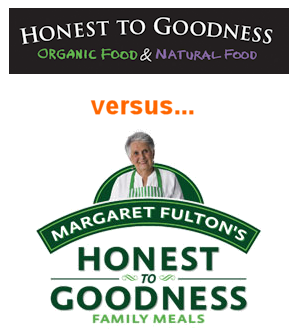 The Woolworths decision to use "Honest to Goodness" could have come about in one of two ways (in my opinion):
1) Their lawyers checked out the logo trademark registered in 2004 by Organic Marketing Australia Pty Ltd, and decided it was not strong enough to hold up if the owner ever decided to legally challenge them. Note it was a logo trademark, not a word trademark.
2) Someone may have screwed up on the Woolworths side and didn't do the required trademark and domain name searches.
To be honest, it is unlikely the reason was #2, especially looking at the various trademark filings earlier in March (2011).
Several things to note here are that it looks like Organic Marketing Australia Pty Ltd may have prepared and filed their logo trademark on their own to get registration in 2004. Yet in early March 2011 they employed the services of a well known law firm to register their word trademark (
HONEST TO GOODNESS
) and this time they also slightly changed their description of services.
This evidence suggests their lawyers are seeking to improve the quality of legal rights claimed by Organic Marketing Australia Pty Ltd and their branding, Honest To Goodness, in the earlier registration so it more accurately represents what Organic Marketing Australia Pty Ltd (
http://www.goodness.com.au/
) do, rather than what they intended to do when they first established.
I'm a big advocate of trademarks, and often they are your best form of protecting the name of your business, products, or services. But things are not always black and white: there are dark greys and light greys as well!
An example of a straight forward situation (black and white) might be perhaps if a company decided to build a line of retail stores called "Honest to Goodness". It might also be a straightforward case if a company decided to create a food product (or something else covered by the "Honest to Goodness" 2004 registered trademark).
Dark grey might be using the "Honest to Goodness" phrase as a tagline, and light grey might be simply referencing the expression "Honest to Goodness" in text or spoken word in an advertisement.
One test here is, whether the present dispute involves trademark use by Woolies, or alternatively, mere use by Woolies of "Honest to Goodness" as a description of their services.
You decide - check out the dedicated Woolies website:
http://www.woolworthshonesttogoodness.com.au
.
IP Attorney, Noric Dilanchian of
Dilanchian Lawyers & Consultants
draws valuable lessons from the current dispute.
"High value marketing campaigns should always involve a greater level of caution in trade marks search work and general IP law checks. TV advertising campaigns are an example of when this caution is prudent.

"There is in these cases an economic imperative. It is that so much money is spent in such a short time period and it flies or dies on the availability for use of an image, name, tag line or other identifier.

"Intellectual property law case books are strewn with examples of advertisers caught in impending mid-air collisions. On the one side the company with an ad to run has already sunk costs for preparing and scheduling a major ad campaign. On the other side, an opponent suddenly enters the radar screen claiming greater or prior monopoly legal rights to a trade mark, common law supporting a reputation or goodwill or copyright in an image. The opponent typically sends an initial demand letter and, failing compliance with it, seeks an injunction in court action.

"The company with an ad to run is usually on the back foot and must make immediate judgement calls. There's little time to make a decision. They have at least three unhappy options. First, stop the marketing campaign and waste the dollars spent. Second, negotiate to run the ad in return for money and other conditions required by the opponent. Third, rely on its economic muscle and defend with claimed legal rights.

"These unhappy options can be avoided if high value marketing campaigns are designed and undertaken only after thorough trade mark searches and general IP law checks.
Summary

My advice is,
register a trademark
. If you can't afford the services of a competent and experienced IP Attorney, by all means, register a TM yourself. BUT, as soon as you have the funds, get an IP Attorney to look it over and check for "leaks" and areas for improvement. Legal costs are always going to be much greater if you do this after your competitor's horses have bolted.
Your self-registered trademark may look fine to you, and it may pass initial scrutinisation, but without expert advice you may be leaving big holes in your protective legal armour.
Finally, if you do register a trademark, make sure it is CLEAR that it is registered on your website, stationery and packaging - use the ® symbol to make it known. You must also ensure that the trademark you registered matches what you use in your business. Otherwise, any action you decide to bring will be more complex and costly.
At
just
web
®
, we use and recommend the services of:
Dilanchian Lawyers & Consultants
The University Centre, 210 Clarence Street
Sydney NSW 2000 Australia
Tel (02) 9269 0229
Email
Noric Dilanchian
Web
www.dilanchian.com.au
More information
Trademark Registration
|
Business Name Trademark
|
Trademark Symbol
just

web

® Statutory Law Rights
Has this article been helpful or interesting?
Why not share it with others? Simply place your mouse over the buttons below to select from a range of social media websites, and thanks for sharing.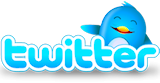 ---

21.03.2011