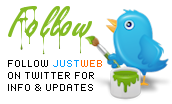 ---
73 visitors
are currently online at
just
web
®
---

---
SEO

(Search Engine Optimisation)
Statistics show us that
more than 80%
of traffic from search engines comes from organic results. Basically, unless you are on the first page of
Google
™, regardless if you have a PPC strategy, your website may not be performing to it's full potential. For experienced, proven
SEO Australia
results, contact us
today
about
website audits
, SEO, and how we can improve your organic search engine optimisation with proven results.
---
Copywriting

A
good copywriter
knows which words trigger the feelings that compel people to make decisions. They write with flair, making it easy for people to be drawn into what they are saying about your business, services or products. Read an an example of good copywriting for a fictitious Sydney
Mercedes Dealer
, or just "ok" website copy for a
Used Mercedes
dealer.
---
Trademarks

The most effective way to safeguard you against people "trading off" your business name, product or service, is to register a trademark. For more information, including about the
just
web
®
trade mark, please read our
trademark registration
article.
---
W3C Validated
:
XHTML
|
CSS
What does XHTML 1.0 compliance (validation) mean?
XHTML is the next generation of HTML and is a hybrid between HTML and XML. XML was designed to describe data. HTML was designed to display data. XHTML is much stricter than HTML. Not all browsers support XML so XHTML provides an intermediary solution and can be interpreted by XML and HTML browsers.
To check the compliance of this site, please click the button to the right.

What does CSS compliance (validation) mean?
CSS, (Cascading Style Sheets) is a feature added to web pages that gives both Web site developers and users more control over how pages are displayed. With CSS, designers and users can create style sheets that define how virtually all the elements on a webpage display.
To check the compliance of this site, please click the button to the right.
What is PageRank?
PageRank is a numeric value that represents how important a page is on the web according to Google. Google's algorithms figure that when one page links to another page, it is effectively casting a vote for the other page. The more votes that are cast for a page, the more important the page must be.
Also, the importance of the page that is casting the vote determines how important the vote itself is. Google calculates a page's importance from the votes cast for it. How important each vote is is taken into account when a page's PageRank is calculated.
PageRank is Google's way of deciding a page's importance. It matters because it is one of the factors that determines a page's ranking in the search results. It isn't the only factor that Google uses to rank pages, but it is an important one.

FOSI Labelling
just
web
is labelled using FOSI and is proud to be an
Associate Member
. FOSI is the
Family Online Safety Institute
, an international, non-profit organization of internet leaders working to develop a safer internet. FOSI has long believed that self-regulation leads to the best balance between the free flow of digital content and protecting children from potentially harmful material.
just
web
believes that implementing a system like this will go a long way towards making the Internet a safer place for children. Already over 100,000 website owners have labelled their sites. It's free to label your site - simply follow the instructions on the FOSI labelling page.
How does FOSI work?

The centrepiece of the organization is the descriptive vocabulary, often referred to as "the FOSI questionnaire." Content providers check which of the elements in the questionnaire are present or absent from their websites. This then generates a small file containing the labels that is then linked to the content on one or more domains.
Users, especially parents of young children, can then use filtering software to allow or disallow access to web sites based on the information declared in the label. A key point is that the Internet Content Rating Association does not rate internet content - the content providers do that, using the
FOSI labelling system
. FOSI makes no value judgement about sites.
Please note:
Upon the recent decision of FOSI's Board of Directors, the ICRA labeling engine has been discontinued. While all current labels will continue to work with Internet content filters, the ICRA label generator, ICRA tools and Webmaster support will no longer be available. If you are writing with questions about difficulties with Content Advisor, please refer to Microsoft support, as Content Advisor is part of their Internet Explorer software.
System Updates and Browser Updates

To ensure you browse the Internet the way it is meant to be seen, please make sure you have all the latest updates and patches for your particular operating system, as well as the latest version of your preferred browser.
Software manufacturers/developers can update their software several times per year, and often the updates include very important security fixes, or patches.
Without these patches your computer can be vulnerable to attack by things like viruses, trojans, and other nasties.
To download the latest version of your browsers, simply click on one of the icons to the right. All these browsers enable you to view the very latest in web page design technology.