2010 Triumph Thunderbird
I took for a test ride was it looked fantastic - a real head turner - and worthy of a review.
Quite obviously, Triumph has taken a lot of styling "tips" from Harley-Davidson, including the low slung seat, the extra wide fat bob style fuel tank with dash mounted instrument panel, and the Wide Glide style front end.
Unfortunately, they've also taken a few of the not-so-great styling features from Harley, like for example using high quality chromed engine casings, then bolting them together with plain, non-chromed zinc fasteners. However, overall the finish is of high quality.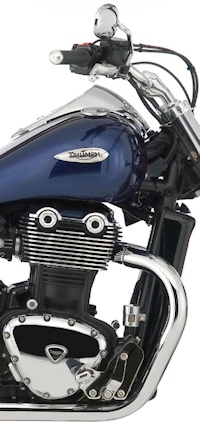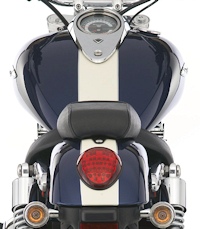 Sitting astride the Triumph Thunderbird, it instantly feels like a very comfortable motorcycle. In fact, rather than sit "astride" it, you sit IN it, just like a Harley-Davidson Softail.
The suspension is great, and even though the big 47mm front forks have a very short travel, they absorb the bumpy, pot-holed roads we have here in Sydney very well. Speaking if which, Windsor Road is an embarrassment! Itís a main arterial road that feels like riding along a goat track.
Anyway, when I rode the Triumph, the weather was fine and warm, a beautiful Autumn day at about 25c - just right. I mention the weather because even though it was by no means a hot day, when the T-bird's radiator fan kicked in, I could really feel the heat blowing onto my lower legs. Not entirely annoying, but certainly noticeable - and I wonder what it would be like on a REALLY hot day.
Here are a few notes I made:
Handling
Handling was excellent - with the exception of the cornering clearance. The scrape knobs on the front pegs hit the ground all too quickly - and often. I got the impression that if the pegs were higher, you could punch this baby into a corner just like a sports bike. In many of the test ride videos Iíve watched there is that constant metal-hitting-road noise as the foot peg knobs scrape the road surface.
Power/Torque
You can certainly feel how much torque the Thunderbird's engine pushes out. Even in 6th gear, the bike pulls away effortlessly at low revs. The bike has plenty of horsepower on tap too, but if you need more, you can also buy the optional big bore kits. Supplied and fitted, the kit will add about another $3500 (in Australia) to the cost of the bike and take about a full day of installation.
The big Thunderbird is fuel injected, but actually uses two mapping sequences: one for when the throttle is gently rolled on, and another for when you slam it on.
Tyres/Wheels/Brakes
Nice to see cast alloy wheels on the big Trumpy, and decent brakes. Twin 4 spotters up front (Nissin caliper), and a single 4 spotter on the rear (Brembo caliper). I've heard some people say the Triumph feels heavy up front, but having owned a Harley Heritage for about 4 years in the early 90's, I would say the heaviness is somewhere in between a "normal" Softail and a Heritage or Fat Boy.
The rear tyre was not so wide that it was a problem for the handling, but it was wide enough to look good. The front wheel was the thing that stuck out in my mind. In all my years of riding bikes, I have NEVER experienced how critical the right air pressure is in a tyre. The bike I test rode had about 28psi in the front tyre, rather than the dealer recommended 37psi. Normally you would notice some issues with handling or braking, but with the Thunderbird, it had "death wobbles" at even low speed.
After a quick trip back to the workshop to get the pressure up, the handling improved out of sight and the death wobbles disappeared like magic. Very odd. I was told this is a safety feature - you'll always know if you are low on air. Ummmm... ok.
Instruments
I loved the instrument panel features. It included a speedo, tacho, two trip meters, fuel, clock, etc etc. Unfortunately, the bike I rode seemed to have sprung a leak in the seal, so the instruments were hard to see - lots of condensation. This made them hard to read at a glance, but I also though the instrument panel could be angled up just a slight bit more.
Summary
With a decent set of
aftermarket exhausts
such as Staintune or Foran, the 2010 Triumph Thunderbird would be an extremely enjoyable machine. It would make a great bike for a long trip, or just a weekend cruiser. But if you like the "thump thump thump" of a Harley underneath you, you may be a little disappointed. Even though itís a 1600cc motor, the Thunderbird is so smooth, you think youíre sitting on a smaller, Japanese Harley copy.
Would I buy one? ABSOLUTELY!
Has this article been helpful or interesting?
Why not share it with others? Simply place your mouse over the buttons below to select from a range of social media websites, and thanks for sharing.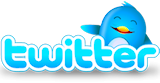 ---

29.04.2010