cheap mini notebooks
, I may have found a bargain for you - if you like, or don't mind the colour purple. An
Acer Aspire One D250 Mini Notebook
(Netbook) for only $299.00, it's the
cheapest netbook
I've seen so far!
The AOD250 is a nice and compact mini laptop with a 10.1" TFT LED backlit screen. It is also much thinner than the previous model because it comes with a 3-cell Li-ion battery pack - as opposed to the earlier 6 cell models.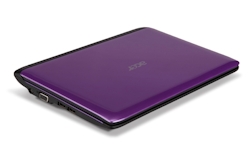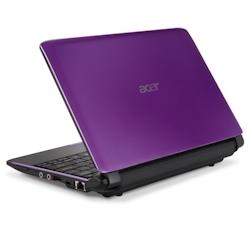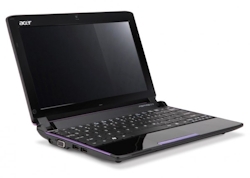 There is, however, a bit of a trade off for size - the smaller 3 cell version lasts less time without charging - an estimated 2 1/2 to 3 hours, depending on what you are using it for, as opposed to about 5 hours for the 6 cell models.
The keyboard is very easy to use and functional, being 89% the size of a "normal" keyboard, and it comes with a Multi-gesture touchpad pointing device with two buttons, supporting Circular-motion scrolling, Pinch-action zoom and Page flip.
Acer Aspire AOD250 also comes with the usual compliment of Netbook features such as built in Wi-Fi, webcam, an Intel Atom processor, 160 gig hard drive, built in stereo speakers (although where they hide them is a mystery), and an integrated graphics card.
One thing the Netbook doesn't come with is a built in optical drive, or DVD/CD Rom drive. That's not too much of an issue however as you can pick up a neat little external optical drive for about $70.00.
All in all, it's a bargain. The RRP (recommended retail price) of the Acer Aspire One D250-0Bk Netbook is $699.00, but I've found a place which has a shipment of refurbished purple ones for only $299.00, including GST.
Now, before you get a little put off by the "refurbished" part, often this simply means the units have been returned by a retail store because they have been unable to be sold (they are purple, after all!), but as they are returned goods, Acer must inspect them before re-shipping them out. Once the box is open, they must label them "refurbished" - even if the unit has not been touched!
I asked the retailer, and he said in his experience the majority of the "refurbished" items still have their screen protection and feature stickers still in place. However, for peace of mind, they do come with a warranty.
Please note: limited stock - but others available
My PC Parts have been in contact with me and advised that stocks of these purple Mini Netbooks went quicker than expected. However, they have many other bargains, such as the
ASUS Eee PC 1005HAB Netbook
equipped with an Atom N270 1.6GHz processor, 1GB ram, 160GB hard drive, 10.1" LED-Backlit screen, built-in Webcam, 6-Cell Battery, and loaded with Windows 7 Starter operating system.
All that for just $295.00
. Get in touch with them for more information.
To learn more about this bargain Netbook, contact MY PC Parts:
MY PC Parts (ABN 21606589652)
6 Blanck Street Maroochydore QLD 4558 Australia
Tel:
07 5443 3173
Fax: 07 5443 3174
Email:
info@mypcparts.com.au
Website:
http://www.mypcparts.com.au/prod62.htm
Has this article been helpful or interesting?
Why not share it with others? Simply place your mouse over the buttons below to select from a range of social media websites, and thanks for sharing.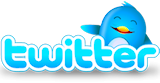 ---

04.09.2010