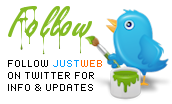 ---
60 visitors
are currently online at
just
web
®
---

---
SEO

(Search Engine Optimisation)
Statistics show us that
more than 80%
of traffic from search engines comes from organic results. Basically, unless you are on the first page of
Google
™, regardless if you have a PPC strategy, your website may not be performing to it's full potential. For experienced, proven
SEO Australia
results, contact us
today
about
website audits
, SEO, and how we can improve your organic search engine optimisation with proven results.
---
Copywriting

A
good copywriter
knows which words trigger the feelings that compel people to make decisions. They write with flair, making it easy for people to be drawn into what they are saying about your business, services or products. Read an an example of good copywriting for a fictitious Sydney
Mercedes Dealer
, or just "ok" website copy for a
Used Mercedes
dealer.
---
Trademarks

The most effective way to safeguard you against people "trading off" your business name, product or service, is to register a trademark. For more information, including about the
just
web
®
trade mark, please read our
trademark registration
article.
---
W3C Validated
:
XHTML
|
CSS
Google Analytics
regularly, you will have noticed a sharp rise in traffic from the keyword
(not provided)
.
I don't like this approach by Google,
obfuscating keywords
used by people to find your website, but at the end of the day, it is their search engine, and they have provided the tools to at least get back some of the data that has been lost.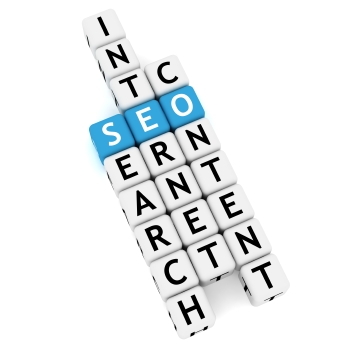 To give you an idea of how fast this is taking hold, check out the
just
web
* "not provided" statistics - these are sourced from the keyword traffic for the first few months of 2012:
January: 3.31%
February: 3.92%
March: 11.62%
April: 13.83%
May: 13.21%
So, at least at the moment, over
13% of all keyword sourced traffic
to
just
web
* has the visitor's keyword use hidden.
Why is this bad?
Aside from the fact it seems to be getting worse, even though originally Google stated it would only represent a small proportion of traffic, it means that you cannot tell what specific keyword sequence people have used to find your website. Which means, of course, your SEO (Search Engine Optimisation) is likely to get harder to test and measure.
However, there is a way to at least see where these (not provided) visitors land in your website by using "
Advanced Segments
" in your Google Analytics.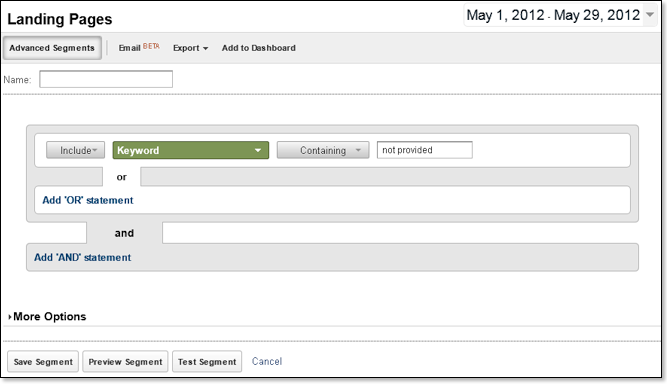 How to set up an Advanced Segment:
Log in to your Google Analytics
Click "Advanced Segments" at the top
Click "+ New Custom Segment"
Name the segment "not provided" or something similar
Make sure the options read: Include, Keyword, Containing, (not provided) (image #1 above)
Click "Save Segment"
Go to Content / Landing Pages
If the Advanced Segment is not already activated, click the Advanced Segment button, then tick the "not provided" custom segment, and click "Apply" (image #2 below)
You will then be able to see what pages your "
not provided
" visitors landed on, and from that, roughly guess how they found your website.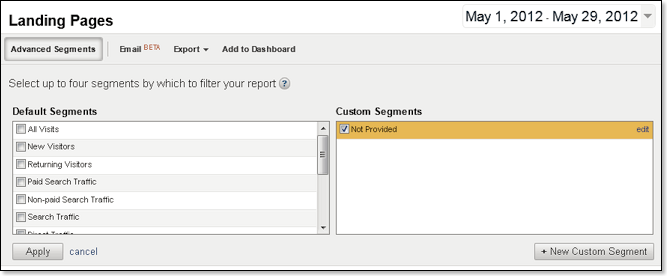 Bear in mind that it will still be tough to work out how people discovered your home page because there may be multiple keyword targets on that page, but for your deep links, or internal pages, this is an ideal way to at least get an idea of how people found your website.
For example, in
May 2012
, taking a random sample of internal pages from
just
web
*, you can see the following articles/pages were found with the keyword(s) hidden by "not provided". I've also provided the total number of unique visits for each page for a comparison:
/television/bikie-wars.html | Keywords: 1168 Not Provided: 56
/marketing/billboard-advertising.html | Keywords: 103 Not Provided: 32
/public-relations/free-press-release.html | Keywords: 38 Not Provided: 14
/support/nokia-e63-keypad-light.html | Keywords: 81 Not Provided: 13
/review/drift-hd-review.html | Keywords: 111 Not Provided: 12
/review/triumph-thunderbird-exhaust.html | Keywords: 154 Not Provided: 12
/business-law/trademark-registration-australia.html | Keywords: 51 Not Provided: 11
/law-articles/bikie-laws.html | Keywords: 141 Not Provided: 11
It is quite easy to guess what keywords people used to find these pages - and it also shows the pages themselves are working as far as hitting their targets. Interesting to note the variation in percentages of "not provided" landings for different pages.
For example, /television/bikie-wars.html was roughly
5%
, but /marketing/billboard-advertising.html was over
30%
.
So, implement the above
Advanced Segment
and claw back at least some of the information which is now hidden from view.
The same method can be used to show pages which have been landed on, but show up as (
not set
).
Has this article been helpful or interesting?
Why not share it with others? Simply place your mouse over the buttons below to select from a range of social media websites, and thanks for sharing.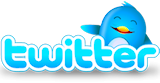 ---

29.05.2012