one button mode
". In other words, you can turn the camera on and start shooting by simply pressing one button.
A great accessory to use in this mode is a
trigger handle
, sometimes referred to as a
pistol grip
, or perhaps a
GoPro handle
. The company Oculus has a pistol grip product, but it does not have a trigger system to operate the GoPro in
one button mode
.
However, the good people at Sports Camera, located in Sydney's outer west, have come to the rescue and designed an all new stainless steel trigger handle that makes it easy to just point and shoot with your GoPro camera when it is in ONE BUTTON MODE.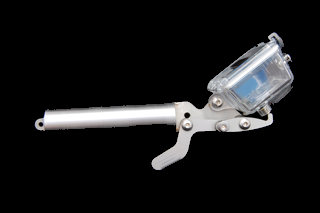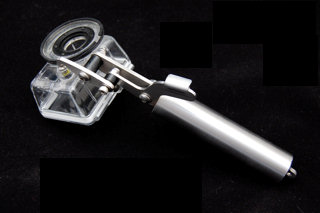 The Sports Camera trigger hand grip has a round,
stainless steel handle
with a trigger mechanism made from a durable combination of nylon and stainless steel. The smooth, round handle makes it very easy to turn the camera in your hand, and, given the manufacturing materials used, the trigger handle is suitable for water sports. In other words, it won't rust, and it won't jam.
The new
GoPro Hero2
has LED lights on all sides (top, front, back, and side), so once the trigger turns on the camera you can easily see that it is recording from the back. The handle is great to carry around and film at any event - on land OR sea.
The grip itself is set to hold the camera at a predetermined angle, which is ideal when holding the camera straight out. It's slightly tilted back so the wrist sits comfortably when filming in front of you.
I found the trigger handle very comfortable, but because my use would be mostly on the land, I feel the handle would do better with a neoprene type covering. This is an easy modification though - just buy some neoprene off eBay (or a local supplier) and fit it yourself - if you need to.
As a safety precaution, the trigger handle also comes with a wrist strap just in case you drop the unit. This will prevent the camera from dropping to the ground, or floating away if you are underwater. Don't forget the GoPro is ok for use down to about 180' (about 54 metres).
Sports Camera advise me that another model will be out shortly where the camera will sit parallel to the handle. That will be useful for filming from above - i.e. holding the camera up high, and tilting it forward to film down.
If you are looking for a simple handle, with no trigger mechanism, try the
GoPole Grenade Grip
- it is cheap, light weight, easily carried, and the camera angle is adjustable.
The Sports Camera
Trigger Handle
retails for $79.00, and is full designed and made in Australia.
---
GoPro Handle

Review
By

Rob Arnell

,

Senior Contributor

at

JustWeb
Rating: out of 5.
This GoPro handle, with trigger for use in "one button mode", is designed and made in Australia from high quality, durable materials. A very handy little GoPro accessory, well worth having in your kit.
---

Has this article been helpful or interesting?
Why not share it with others? Simply place your mouse over the buttons below to select from a range of social media websites, and thanks for sharing.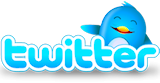 ---

08.02.2012